ST37-2 main purpose,ST37-2 same material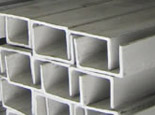 Katalor is ST37-2 steel manufacturer in China,We have a large number of ST37-2 steel spot.Offer ST37-2 steel main purpose and same material.
ST37-2 is a steel of General purpose structural steels steel.ST37-2 is a steel under the
German standard .ST37-2 is mainly used in construction, underground engineering, bridge structures, marine structures, container manufacturing.
We can provide the delivery status of ST37-2 probe rolled or normalized.
ST37-2 chemical composition as follows:
C 0.17-0.20
Mn <1.4
P and S <0.045
Corresponds to China's equivalent to the carbon structural steel Q235B, this steel and of high-quality carbon structural steel 20 steel similarly, it also uses 20 steel instead.
More about ST37-2 steel you can Contact Us at any time.We give you the most favorable ST37-2 prices.
Copyright © 2011 by Shanghai Katalor Enterprises Co., Ltd. All rights reserved