ABS EH40 steel plate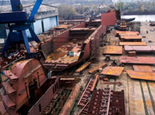 Grade ABS EH40, ABS EH40 steel, ABS EH40 steel plate, ABS EH40 steel sheet, ABS EH40 shipbuilding steel price,ABS EH40 steel supplier and manufacturer.
ABS EH40 shipbuilding Steel Description:
ABS EH40 steel is a kind of hot rolled high tensile strength steel. Higher-strength ABS shipbuilding steel comes in 12 grades of 3 strengths, EH40 is one of the grades. The ABS EH40 grade steel plates have yield strength of 56,500 psi (390 MPa), and ultimate tensile strength of 74,000 - 94,500 psi (510-650 MPa).All of ABS EH40 steels have been engineered to be optimal long-lived shipbuilding steels.
ABS EH40 Shipbuilding Steel Application:
ABS EH40 Shipbuilding steel plates are suitable for container and bulk cargo vessels as well as cruise ships, ferries and yachts.
ABS EH40 Steel Grade Specification:
Thickness: 4mm to 260mm,
Width: 1200mm to 4000mm
Length: 3000mm to 18000mm.
ABS EH40 Shipbuilding Steel Chemical Composition:
Grade

C %

Si %

Mn %

P %

S %

V %

AL %

Cr %

ABS Grade EH40

0.180

0.1-0.5

0.90-1.6

0.035

0.035

0.05-0.10

0.015

0.200

Cu %

Mo %

Nb %

Ni %

Ti %

0.350

0.080

0.02-0.05

0.400

0.020
ABS EH40 Grade Ship Steel Mechanical Properties:

Grade

Thickness(mm)

MinYield(Mpa)

Tensile(Mpa)

Elongation (%)

Min Impact Energy

ABS Grade EH40

8mm-50mm

Min 390Mpa

510-650Mpa

20%

-40

34J

51mm-70mm

Min390Mpa

510-650Mpa

20%

-40

41J

71mm-100mm

Min 390Mpa

510-650Mpa

20%

-40

50J

The min impact energy is longitudinal energy
Katalor Industry has many years experience in making ABS EH40 steel. Katalor Industry is a very good ABS EH40 steel exporter too. We always provide the ABS EH40 steel in high quality and best price. If you have any needs in ABS Grade EH40 steel plate price, please feel free to contact us.