NK DH40 steel plate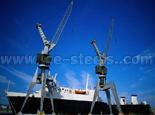 NK DH40, NK DH40 steel grade, NK DH40 steel plate, NK DH40 steel sheet, NK DH40 shipbuilding steel price,NK DH40 steel supplier and manufacturer.
NK DH40 shipbuilding Steel Description:
NK DH40 steel is a kind of hot rolled high tensile strength steel. Higher-strength NK shipbuilding steel comes in 12 grades of 3 strengths, DH40 is one of the grades. The NK DH40 grade steel plates have yield strength of 56,500 psi (390 MPa), and ultimate tensile strength of 74,000 - 94,500 psi (510-650 MPa). All the NK DH40 shipbuilding Steel offered by Katalor Industry can be certificated by Nippon Kaiji Kyokai (NK).
NK DH40 Shipbuilding Steel Application:
NK DH40 Shipbuilding steel plates are mainly used for making the offshore oil drilling platform, the hull of ship building and ship repairing, the platform pipe joints and other components.
NK DH40 Steel Grade Specification:
Thickness: 4 mm to 260mm,
Width: 1200mm to 4000mm
Length: 3000mm to 18000mm.
NK DH40 Shipbuilding Steel Chemical Composition:
Grade

C %

Si %

Mn %

P %

S %

V %

AL %

Cr %

NK Grade DH40

0.180

0.1-0.5

0.90-1.6

0.035

0.035

0.05-0.10

0.015

0.200

Cu %

Mo %

Nb %

Ni %

Ti %

0.350

0.080

0.02-0.05

0.400

0.020
NK DH40 Grade Ship Steel Mechanical Properties:

Grade

Thickness(mm)

MinYield(Mpa)

Tensile(Mpa)

Elongation (%)

Min Impact Energy

NK Grade DH40

8mm-50mm

Min 390Mpa

510-650Mpa

20%

-20

34J

51mm-70mm

Min390Mpa

510-650Mpa

20%

-20

41J

71mm-100mm

Min 390Mpa

510-650Mpa

20%

-20

50J

The min impact energy is longitudinal energy
Katalor Industry has many years experience in making NK DH40 steel. Katalor Industry is a very good NK DH40 steel exporter too. Our NK DH40 steel plates and steel sheets have been exported to worldwide shipyard and ship building company.If you have any needs in NK Grade DH40 steel plate price, please feel free to contact us.