Contact us
: 0086-21-61182423
: 0086-21-61182425
: ROOM 101��NO.16, 6TH BUILDING, 9TH LANE,GUANGYI ROAD,ZHUQIAO TOWN,PUDONG NEW AREA,SHANGHAI
SUS 202 stainless steel plate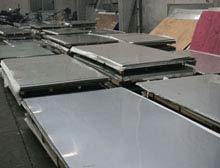 Stainless Steel refers to one steel with the resistance of air, steam, water and other corrosive media and the weak acid, alkali, salt and other chemical etching medium erosion , also known as acid-resistant stainless steel
200 series stainless steel generally contains low nickel content, whose corrosion resistance is far lower than 300 and 400 series. It is not easy tell SUS202 from other high-nickel stainless steel with the naked eye.
Chemical Composition (%)

Grade

C

Mn

P

S

Si

Cr

Ni

Cu

N

JSL AUS(202)

0.08

7.0-8.0

0.07

0.01

0.7

14.5-15.5

4.0-4.2

1.5-2.0

0.1

JSL AUS(202)

Yield Strength
Mpa

Tensile Strength
Mpa

Elongation
(%)

Thickness

brinell

Rockwell

≥205

≥ 550

40

≤217

≤95

JSL AUS(202)

Weldability

Malleability

ERICCSON (cupping value)

Fine

Excellent

12.0-13.0

JSL AUS(202)

Application

Because good malleability and resistance to rust, it can be used for the following areas: deep drawing utensils, water filters, storage devices, milk cans, water tank; washing machine drum, microwave, dishwasher; window and door frames, pillars of the package layer, the bus stop, telephone booth, pipe, decorative pipes; automotive, tire cover, wiper, accessories, etc.
SUS202 stainless steel will occur pitting, corrosion or wear. Because stainless steel has superior resistance to erosion, it can construct parts forever and keep engineering design integrity. Chromium stainless steel has high mechanical strength and extensibility , easy-to-parts manufacturing, to meet construction engineers and construction designer's needs .
202 stainless steel contains nickel content 4-6%, Mn 7.5-10%.201/202 uses Mn-N-Ni to replace part of Ni elements to form austenite. It is a saving Ni grade to ease the situation lack of Ni. The biggest difference on usage is corrosion resistance, the others similar to 304 .
Donwload
Copyright ? 2011 by Shanghai Katalor Industry Co., Ltd. All rights reserved