Contact us
: 0086-21-61182423
: 0086-21-61182425
: ROOM 101��NO.16, 6TH BUILDING, 9TH LANE,GUANGYI ROAD,ZHUQIAO TOWN,PUDONG NEW AREA,SHANGHAI
430 stainless steel strip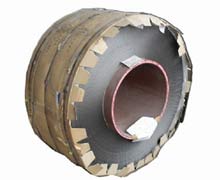 Grade 430 is a ferritic, straight chromium, non-hardenable grade, combining good corrosion resistance and formability characteristics with useful mechanical properties. Its ability to resist nitric acid attack permits its use in specific chemical applications but automotive trim and appliance components represents its largest fields of application.
430 hot-rolled coil steel is from well-known large industries home and abroad .The material composition is of full compliance with national standard, JIS standard, ASTM standard.
Specification

Thickness (mm)

0.03 ~ 3.5

Width (mm)

6 ~ 600

Chemical Composition
(%)

C

≤0.12

Si

≤0.75

Mn

≤1.00

P

≤0.040

S

≤0.030

Ni

≤0.60

Cr

16.00~18.00

Mo

2.00-3.00

Delivery State

Heat treatment and skin rolling ; Surface should be rough or polished

Application

widely use in automobiles, tractors and other industries

Physical Properties

under the customer's requirement
430 stainless steel strip can be offered by Katalor Industry, Katalor Industry is a prifessional 430 stainless steel strip supplier and manufacturer ,we have 430 stainless steel strip price and specification ,so, we can help you to know about 430 stainless steel strip ,if you need 430 stainless steel strip ,please contact us.
Donwload
Copyright ? 2011 by Shanghai Katalor Industry Co., Ltd. All rights reserved