430 stainless steel plate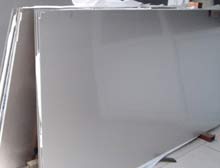 430 stainless steel plate, 430 stainless steel medium plate, 430 stainless steel industrial plate, 430 stainless steel wire drawing board, 430 stainless steel (4K, 6K, 8K) mirror panel, 430 stainless steel grinding plate.
Type 430 is a low carbon ferritic stainless steel which,in mildly corrosive environments or atmospheric exposures, has corrosion resistance approaching that of some nickel-bearing stainless steels. This alloy is oxidation resistant at elevated temperatures.
Type 430 is ductile, does not work harden readily, and can be formed using a variety of roll forming or mild stretch bending operations as well as the more common drawing and bending processes.
Chemical Composition

C %

Si %

Mn %

P %

S %

Cr %

Ni %

Mo %

≤ 0.12

≤ 0.75

≤1.00

≤0.04

≤0.03

16-18

≤0.60

2-3

Density

7.7 g/cm3

Melting Point

1427 ℃

Specification

Steel plate:thickness: 0.4-80mm, 1*2m,1.5*3m,1.220*2.440m,1.220*3.048m,1.5*6m

Coil plate: thickness :0.3-3.0 width:1m、1.22m、1.5m、1.8m
430 stainless steel is a good corrosion resistance and general steel, better thermal conductivity than austenitic, smaller coefficient of thermal expansion.430F is steel with free-cutting property for automatic lathes, bolts and nuts. 430 stainless steel has several states, and under different states , dirt and corrosion resistance are not the same .430 ferritic stainless steel, decorative, such as for automotive accessories. Good moldability , but poor temperature resistance and corrosion resistance.