321 stainless steel strip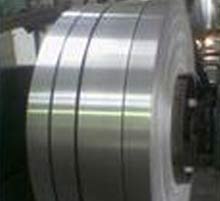 Grade 321 is the grade of choice for applications in the temperature range of up to about 900°C, combining high strength, resistance to scaling and phase stability with resistance to subsequent aqueous corrosion.
321 stainless steel strip Chemical Composition :
Grade

C

Si

Mn

P

S

Cr

Ni

1Cr18Ni9Ti
(0.02—1.8*1.7—600mm)

≤ 0.08

≤ 1.0

≤2.0

≤0.045

≤0.03

17-19

9-13
321 stainless steel strip: cold-rolled: Hardness: 530 Tensile Strength:1760
Hot-rolled: Hardness: 570 Tensile Strength:about 1800

Type

Hardness

Tensile Strength

Properties

Application

Cold-
rolled

Hot-
rolled

Cold-
rolled

Hot-
rolled

530

570

1760

about 1800

Ti element added into 321 stainless steel to prevent grain boundary corrosion; suit for use under 430 ℃ -900 ℃ temperature.

Wide use in machinery, electronics, high-tech product parts, auto parts, kitchen appliances,washer, spring shrapnel and other metal stamping industries.( All materials are standard, providing material evidence and SGS report.)

321 non-magnetic ultra-hard stainless steel strip

500

540

1660

about
1700
321 stainless steel strip are used because they are not sensitive to intergranular corrosion after heating within the carbide precipitation range of 425-850°C. A limitation with 321 stainless steel is that titanium does not transfer well across a high temperature arc, so is not recommended as a welding consumable.