316 stainless steel bar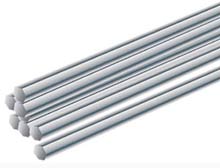 C

Si

Mn

P

S

Cr

Ni

Mo

≤0.08

≤1.00

≤2.00

≤0.035

≤0.030

16-18.5

10-14

2-3

Series of stainless steel bars

stainless steel bars,stainless steel black bars,stainless steel ground rods,stainless steel capstan bar,Stainless steel optic axis, stainless steel plain round bar ,stainless steel high temperature resistance bar

Material

SUS430、420、416F、201、202、301、302、303、304、304F、316、316F、316L、309s、310s

Surface

black skin,polish,garland,latte art,burnish
316 Stainless steel bar: 316 as a low-carbon steel, in general, corrosion resistance is similar to 316L, but after welding or eliminating stress, it can keep good corrosion resistance in the not heat treatment case for excellent resistance to intergranular corrosion .
316 stainless steel bar: 316 stainless steel contains molybdenum and low carbon content,and the point corrosion resistance is better than the 304 in the sea and chemical industries. (316L low-carbon, 316N high strength and high nitrogen, 316 stainless steel high sulfur content, free cutting steel.)
And 316 stainless steel is mainly used for tableware, kitchen cabinets, boiler, auto parts, medical equipment, building materials, food industry (temperature -196 ° C-700 ° C).316 stainless steel bars is "Cutting class" martensitic steel, similar to Brandt's first high-chromium steel of this stainless steel. So it is also used in surgical tools.