Contact us
: 0086-21-61182423
: 0086-21-61182425
: ROOM 101��NO.16, 6TH BUILDING, 9TH LANE,GUANGYI ROAD,ZHUQIAO TOWN,PUDONG NEW AREA,SHANGHAI
303 stainless steel bar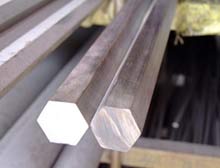 303 stainless steel bar is a stainless steel adding copper and containing sulfur and selenium.it is mainly used for high cutting and surface finish requirements .303 stainless steel bars are ideal for automatic lathes screw and mut.
303 stainless steel bar Mechanical Property :
Mechanical property (annealing)

Grade

Yield Strength σ0.2 (MPa)

Tensile Strength
σb (MPa)

Hardness

Elongation
δ5 (%)

303

205

515

HRB 90-100
HRC 20-25

40
303 stainless steel bars Chemical Composition:
Chemical Composition(%)

C

Si

Mn

P

S

Cr

Ni

Mo

≤0.15

≤1.00

≤2.00

≤0.20

≥0.15

17.00-19.00

8.00-10.00

≤0.06
303 austenitic stainless steel is acid resistant stainless steel.To improve the performance of steel,more than 0.60% molybdenum is add in steel , so it can be ablative, easy cutting and corroded.
Production process :smelting, rolling, forging, drawing, annealing, twisted rope, weaving, cutting cutting, stamping, polishing, casting.
Donwload
Copyright ? 2011 by Shanghai Katalor Industry Co., Ltd. All rights reserved