Contact us
: 0086-21-61182423
: 0086-21-61182425
: ROOM 101��NO.16, 6TH BUILDING, 9TH LANE,GUANGYI ROAD,ZHUQIAO TOWN,PUDONG NEW AREA,SHANGHAI
303 Cu stainless steel bar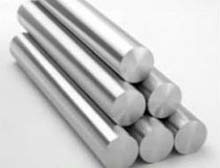 303Cu stainless steel bars:
Stainless steel bars: round bars, hexagonal bars, square steel, flat steel, hexagonal steel , round steel, solid bar.
303Cu stainless steel bar is a stainless steel adding copper and containing sulfur and selenium. It is mainly used for high cutting and surface finish requirements .303 Cu stainless steel bars are Ideal for automatic lathes screw and mut.
303Cu stainless steel bar is mainly applicable in petroleum, electronics, chemical, pharmaceutical, textile, food, machinery, construction, nuclear power, aerospace, military and other industries.
Mechanical property (specification: 10-320)

Grade

Yield Strength σ0.2 (MPa)

Tensile Strength
σb (MPa)

Hardness

Area Reduction ψ (%)

Elongation
δ5 (%)

303Cu

≥205

≥520

≤187HB;≤90HRB;≤200HV

≥50

≥40
303Cu stainless steel bars Chemical Composition :
Chemical Composition(%)

C

Si

Mn

P

S

Cr

Ni

≤0.15

≤1.00

≤3.00

≤0.20

≥0.15

17.00-19.00

8.00-10.00
MQ:ISO9001: 2000 quality management system certification, production license
Besides ,adding Cu element and a small amount ofsulfur, phosphorus makes it easier cutted than the 304, and other properties similar to 304 stainless steel bars, but the corrosion resistance is not so good as 304.
Donwload
Copyright ? 2011 by Shanghai Katalor Industry Co., Ltd. All rights reserved