Contact us
: 0086-21-61182423
: 0086-21-61182425
: ROOM 101��NO.16, 6TH BUILDING, 9TH LANE,GUANGYI ROAD,ZHUQIAO TOWN,PUDONG NEW AREA,SHANGHAI
201 Stainless Steel Strip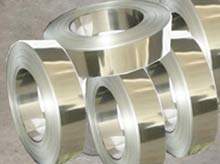 Type 201 is an austenitic chromiumnickel-manganese stainless steel that was developed originally to conserve nickel. It provides properties similar to Type 301 and can be used in most applications. This alloy is nonmagnetic in the annealed condition, but becomes slightly magnetic when cold worked. The rate of work hardening is similar to Type 301, although Type 201 develops somewh at higher yield strength while retaining equal ductility when cold worked. Toughness at low temperatures is excellent.
201 Stainless Steel Strip Physical properties :
Density (bs/cubic inch)

Elastic Modulus
(psi)

Yield Strength
(psi)

Tensile Strength
(psi)

Elongation
(%)

 280l

29,000,000

50,000 -
150,000

100,000 - 180,000

55 - 60
201 stainless cold-rolled steel strip is used for complex deep drawing parts of the low carbon cold-rolled structural steel strip. The state of the surface of the supplied strip should be rough or polished.
Typical uses include construction field, ships building industry, car making industry, petroleum & chemical industries, war and electricity industries, food processing and medical industry, boiler heat exchanger, machinery and hardware fields. Besides ,it can also be widely used in tractor automobile industry, aviation industry.
We are specializing in exporting stainless steel in china,and our products have spread in many countries around the world . If you are interested in our products,please contact us at any time.
The function of nickel in stainless steel:
Nickel is an element to expand and stabilize the austenitephase region of austenite. In order to obtain a single austenite,when the steel contains 0.1% carbon and 18% chromium,the minimum nickel is about 8%, and this is the basic elements of the most famous 18-8 (304 stainless steel) chromium-nickel austenitic stainless steel.In austenitic stainless steel, with the increasing of nickel content, the residual ferrite can be completely eliminated, and significantly lower tendency to the formation of σ phase;at the same time, the temperature of martensite turn hydrocarbons will lower, or even may cover λ → M phase transition, but will reduce carbon solubility in austenite stainless steel, so that the carbide precipitation tend to increase.
Donwload
Copyright ? 2011 by Shanghai Katalor Industry Co., Ltd. All rights reserved