Contact us
: 0086-21-61182423
: 0086-21-61182425
: ROOM 101��NO.16, 6TH BUILDING, 9TH LANE,GUANGYI ROAD,ZHUQIAO TOWN,PUDONG NEW AREA,SHANGHAI
Supply EN10025 S235JRG2 steel plate
Posted:2011/10/27 13:22:34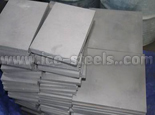 Manufacturer of EN10025 S235JRG2 steel plate
1.As a professional globe steel supplier, we promise we can offer you the qualified EN10025 S235JRG2 steel plate/sheet which is used to build ship, bridge, belongs to high strength sheet. at the competitive price and rapid delivery time
S235JRG2 steel is a specific one and has no different classes. It was regulated in EuroNorm EN 10025 superseded by EN 10025-2 (2006) and the new designation is just S235JR. Both editions deal with "structural" steels.
The designation given is the symbolic one, the numerical designation of material is 1.0038.
The symbolic designation means:
S- "Structural Grade"
235- minimum value of yield strength in MPa ( roughly 35 ksi) for thicknesses ut to 16 mm.
JR- Base steel (Charpy impact test not obligatory, optional only)
G2- Rimming steel not allowed.
More characteristics of this plain carbon steel available in long (Profiles, beams..) and flat products (sheet and plates) are:
Impact value (if specifically required)- 27 J at 20ºC
Carbon content:0.17% max. (0.20% for thicknesses over 40 mm)
Mn content: 1.40% max
P and S content: 0.045% max.
N content: 0.009% max (Not applicable if Al minimun is 0.020%)
ASTM steel A105 has different uses (can be applied to pressure service for example) even if it's a carbon steel too. The different grades refer to different strength grades.
If you want to use EN steels according to EN 10025, there are some other designations for different strength grades (for example S275 or S355 which have a higher yield strength.)
2. we have our storage in Tianjin and Shanghai, and the product material quality is complete, the reserve is big, and delivery can be immediate. Our service is the "one-stop" work style. We have our processing factory and the pre-treatment factory, can make the customers enjoy cutting, welding, drilling holes, ball blasting, derusting, painting ,galvanizing by the lowest cost price.
3.
3.S235JRG2 steel plate would be used to built containers which can bear low temperature sea water.When customers order S235JRG2 steel plate from us,our mill should be roll them completely according to EN10025 specifications,the mill would issue original Mill test certificates before taking delivery for checking
4. We keep more than 6000 tons S235JRG2 steel plate/sheet under EN10025 standard which is used to build ship, bridge, belongs to high strength sheet. in our warehouse, So hereby, we sincerely hope you join us, let's join hands to make you be the No.1 in your local steel market.
Copyright © 2011 by Shanghai Katalor Enterprises Co., Ltd. All rights reserved