Contact us
: 0086-21-61182423
: 0086-21-61182425
: ROOM 101��NO.16, 6TH BUILDING, 9TH LANE,GUANGYI ROAD,ZHUQIAO TOWN,PUDONG NEW AREA,SHANGHAI
Steel supplier in China offer A299 steel stock
Posted:2014/9/16 3:13:39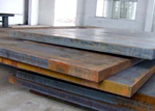 We are steel supplier in China,we can offer all kinds of steel stock and offer all kinds of steel,the best price of A299 steel,A299 steel is ASTM standard specification for pressure vessel steel and carbon steel.
A299 steel specification covers manganese-silicon carbon steel for use in welded boilers and other pressure vessels. A299 steel plates are produced in two grades A299 Grade A and A299 Grade B. A299 steel shall be killed and shall conform to the fine austenitic grain size requirement. A299 steel tension test shall be made to conform to the requirements specified.
A299 steel maximum thickness is limited only by the capacity of the composition to meet the specified mechanical property requirements; however, current practice normally limits A299 steel maximum thickness furnished to 8 in. [200 mm].
A299 steel yield strength rand is more than 275MPa, max thickness can be 200mm in steel plates. A299 steel tensile strength range from 515-655MPa.A299 steel minimum yield strength decreases for thicknesses over 1 in. [25 mm].
A299 steel plates in 50 mm and under in thickness are normally supplied in the as-rolled condition. A299 steel plates may be ordered normalized or stress relieved, or both. A299 steel plates over 50 mm in thickness shall be normalized.
We have the largest storage base of A299 stee stock. The capacity of Tianjin is 5000 tons, Shanghai steel storage is 6000 tons. The huge storage is our strong backing, whenever and wherever protect your ever fount logistics. If you are interested in A299 steel, please contact us at any time.
Copyright © 2011 by Shanghai Katalor Enterprises Co., Ltd. All rights reserved