Contact us
: 0086-21-61182423
: 0086-21-61182425
: ROOM 101��NO.16, 6TH BUILDING, 9TH LANE,GUANGYI ROAD,ZHUQIAO TOWN,PUDONG NEW AREA,SHANGHAI
You are here: Home- Selling list
S355J0W steel plate,S355J0W steel price,EN S355J0W steel properties
S355J0W steel plate,S355J0W steel price,EN S355J0W steel properties
Posted:2012/10/17 21:20:58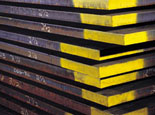 S355J0W steel plate
Steel Category: weather resistant steel
Steel grade: EN10155 S355J0W
Dimension: Thickness 2-460mm, Width 1500-3200mm, Length 6000-12000mm
S355J0W Steel Description:
S355J0W steel is a weather resistant steel which could more accurately be termed as an "Atmospheric Corrosion Resistant Steel" and often referred to as Corten-B steel. Weathering means that due to S355J0W steel chemical compositions, S355J0W steel chemical composition can increase resistance to atmospheric corrosion compared to other steels. This is because it forms a protective layer on S355J0W steel surface under the influence of the weather.
S355J0W Steel Delivery state:
Hot Rolled, Cold Rolled, Normalized, Quenched, Tempering, Thermal Mechanical Control Process (TMCP), Electroslag Remelting Technical, HIC test.
S355J0W steel chemical composition:
C

Si

Mn

P

S

Cr

N

Cu

CEV

max 0.16

Max 0.5

0.5 - 1.5

max 0.035

Max 0.035

0.4 -0.8

max 0.009

0.25-0.55

Max 0.52

Note:
1. The steels may show a Ni content of max 0.65 %;
2. For long S355J0W steel, the P and S content can be 0.005% higher;
3. The S355J0W steel may contain max. 0.30 % Mo and max. 0.15 % Zr
4. It is permissible to exceed the specified values provided that for each increase of 0.001 % N, the P max. content will be reduced by 0.005 %; the N content of the ladle analysis, however, shall not be more than 0.012 %
5.The max. value for nitrogen does not apply if the chemical composition shows a minimum total Al content of 0.020 % or if sufficient other N binding elements are present.
S355J0W steel mechanical property

Nominal thickness (mm)

to 16

16-40

40-63

63-80

80-100

100-150

ReH - Minimum yield strength (MPa)

355

345

335

325

315

295

Nominal thickness (mm)

To 3

3-100

100-150

Rm -Tensile strength (MPa)

510-680

470-630

450-600

Nominal thickness (mm)

3-40

40-63

63-100

100-150

A - Minimum elongation Lo = 5,65 √ So (%)

22

21

20

18

Nominal thickness (mm)

1.5 - 2

2-2.5

2.5-3

A - Minimum elongation Lo = Lo = 80 mm (%)

16

17

18

Temperature

-20

0

Notch impact test. Min. absorbed energy

27

27
Katalor steel,the most professional S355J0W steel exporter,will offer you the the best S355J0W steel. If you have any order in S355J0W steel from Katalor steel, please inquiry us soon.
E-mail: [email protected]
Thanks for your attention in advance
Copyright © 2011 by Shanghai Katalor Enterprises Co., Ltd. All rights reserved