Contact us
: 0086-21-61182423
: 0086-21-61182425
: ROOM 101��NO.16, 6TH BUILDING, 9TH LANE,GUANGYI ROAD,ZHUQIAO TOWN,PUDONG NEW AREA,SHANGHAI
You are here: Home- Selling list
S355 NL steel plate,S355 NL steel plate chemical composition,EN S355 NL steel
S355 NL steel plate,S355 NL steel plate chemical composition,EN S355 NL steel
Posted:2012/12/29 20:30:42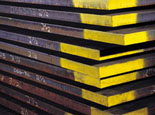 S355 NL steel plate
Steel Category: Non-alloy steel plate
Steel standard:EN10113-2
Steel grade:EN10113-2 S355NL
Dimension: Thickness 5-300mm, Width 1500-3500mm, Length 3000-12000mm
Application: Structural Steels S355NL is used in many applications, combining good welding properties with guaranteed strengths. S355NL steel is used above all for manufacturing highly stressed welded structures in the construction of heavy machinery, bridges and steel structures. S355NL steel is available for application temperatures below -20 °C. There are many grades and the uses varied including civil and industrial engineering. High strength low alloys have replaced many structural steels where weight reduction is important (e.g. automotive) but with guaranteed strengths.
S355 NL steel chemical composition
| | | | | | | | | | | |
| --- | --- | --- | --- | --- | --- | --- | --- | --- | --- | --- |
| C | Si | Mn | Ni | P | S | Cr | Ti | Nb | V | Mo |
| max 0.20 | Max 0.55 | 0.85–1.75 | Max 0.55 | max 0.03 | Max 0.025 | Max 0.35 | Max 0.06 | Max 0.06 | Max 0.14 | Max 0.13 |
S355 NL steel mechanical property
| | | | | | | | |
| --- | --- | --- | --- | --- | --- | --- | --- |
| Temperature | -50 | -40 | -30 | -20 | -10 | 0 | 20 |
| Notch impact test. Min. absorbed energy | 27 | 31 | 40 | 47 | 51 | 55 | 63 |
| | | | | | | | |
| --- | --- | --- | --- | --- | --- | --- | --- |
| Nominal thickness (mm) | to 16 | 16 - 40 | 40 - 63 | 63 - 80 | 80 - 100 | 100 - 150 | 150 - 200 |
| ReH - Minimum yield strength (MPa) | 355 | 345 | 335 | 325 | 315 | 295 | 286 |
| | | |
| --- | --- | --- |
| Nominal thickness (mm) | to 100 | 100 - 200 |
| Rm -Tensile strength (MPa) | 470-630 | 450-600 |
| | | | | | |
| --- | --- | --- | --- | --- | --- |
| Nominal thickness (mm) | to 16 | 16 - 40 | 40 - 63 | 63 - 80 | 80 - 200 |
| A - Minimum elongation Lo = 5,65 √ So (%) | 22 | 22 | 22 | 21 | 21 |
Katalor Industry STEEL should offer you the most resonable S355 NL steel price. If you are interested in Katalor Industry STEEL and S355 NL steel suppliers, Please don't hesitate to contact us.
TEL:010-56218820
FAX:010-56218821
Oficina Dir: ROOM 3007 1# SOHO MODERN CITY, 88 NO. JIAN GUO ROAD BEI JING OF CHINA
E-mail: [email protected]
Copyright © 2011 by Shanghai Katalor Enterprises Co., Ltd. All rights reserved