Contact us
: 0086-21-61182423
: 0086-21-61182425
: ROOM 101��NO.16, 6TH BUILDING, 9TH LANE,GUANGYI ROAD,ZHUQIAO TOWN,PUDONG NEW AREA,SHANGHAI
JIS S55C stock
Posted:2013/9/17 3:09:07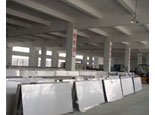 Here is JIS S55C physical properties and application. Katalor Industry is JIS S55C supplier in China,Offer all kinds of steel stock,can met all your needs about steel,satinless steel.
Japanese JIS S55C steel grades. Japanese steel are beginning with S. JIS S55C equivalent Chinese quality carbon structural steel JIS S55C steel. With JIS S55C medium carbon steel as belonging to the senior quality carbon steel. The steel is made furnace, open-hearth method of manufacture or pure oxygen converter steelmaking full static steel, has excellent workability, microstructure uniformity characteristics. The steel is cheap, easy processing, suitable for high-frequency hardening, quenching the flame surface hardening treatment. The steel carbon content (mass fraction,%) ≥ 0.4, excellent wear resistance, but reduced ductility, deformation hardening and cracking, the hardening is extremely important and must be quenched after tempering to avoid temper brittleness. The steel cutting difficult, the need for ball handling improved machinability, in principle, tempered to hardness 19 ~ 22HRC, in order to facilitate machining. Supply condition and hardness of 149 ~ 192HBS, 183 ~ 255HBS, 229 ~ 285HBS.
JIS S55C physical properties, tensile strength of 735MPa, yield strength of 372MPa, elongation δ522%, shrinkage rate of 38%, the impact toughness of 35J/cm2, compressive strength of 350MPa.
Typical application examples: 1, can be used for a variety of cold-working die plate; 2 jig fixed plate; 3, the standard template material, etc.
More about JIS S55C you can Keep an eye on our website, Or send your specific requirements to our e-mail: [email protected], JIS S55C size,and other needs.
Copyright © 2011 by Shanghai Katalor Enterprises Co., Ltd. All rights reserved