Contact us
: 0086-21-61182423
: 0086-21-61182425
: ROOM 101��NO.16, 6TH BUILDING, 9TH LANE,GUANGYI ROAD,ZHUQIAO TOWN,PUDONG NEW AREA,SHANGHAI
You are here: Home- Selling list
Fe E360B steel application,EN Fe E360B steel chemical composition
Fe E360B steel application,EN Fe E360B steel chemical composition
Posted:2012/12/11 20:54:16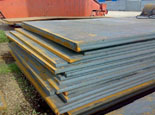 Fe E360B(FN)steel
Steel Category: Common carbon structural steel
Steel standard:EN10025(90)
Steel grade:EN10025(90) Fe E360B(FN)
Dimension: Thickness 5-300mm, Width 1500-3500mm, Length 3000-12000mm
Fe E360B steel Application: Fe E360B(FN) has very wide use. Fe E360B(FN)usually be rolled into steel plates, shaped steel and profile steel, which usually used to used to build workshop ,bridge ,vessels and so on.
Fe E360B(FN) steel chemical composition
total alloy content usually is not more then 3% .Except for Si and Mn, there is V,Ti,Nb,Al,Cr,Ni,Re,N and so on
Katalor Industry STEEL, stocks and supplies wide range and various carbon and alloy steel grades,should offer you Fe E360B(FN) with highest quality and the most moderate price. And our punctual and reliable delivery is also worth your considering.
Please contact us if there is any needs for Fe E360B steel
TEL:010-56218820
FAX: 010-56218821
Oficina Dir: ROOM 3007 1# SOHO MODERN CITY, 88 NO. JIAN GUO ROAD BEI JING OF CHINA
E-mail: [email protected]
Thanks for your attention in advance
Copyright © 2011 by Shanghai Katalor Enterprises Co., Ltd. All rights reserved