Contact us
: 0086-21-61182423
: 0086-21-61182425
: ROOM 101��NO.16, 6TH BUILDING, 9TH LANE,GUANGYI ROAD,ZHUQIAO TOWN,PUDONG NEW AREA,SHANGHAI
You are here: Home- Selling list
Fe E 360 D2 steel standard,Fe E 360 D2 steel application,Fe E 360 D2 chemical composition
Fe E 360 D2 steel standard,Fe E 360 D2 steel application,Fe E 360 D2 chemical composition
Posted:2012/12/10 20:31:11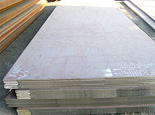 Fe E 360 D2 steel
Steel Category: Common carbon structural steel
Steel standard:EN10025(90)
Steel grade:EN10025(90) Fe E 360 D2
Dimension: Thickness 5-300mm, Width 1500-3500mm, Length 3000-12000mm
Application: Mainly used to built containers which can bear low temperature sea water.
Fe E 360 D2 steel chemical composition

Chemical elements

C≤ 16mm
max

C>16mm
max

Si
max

Mn
max

P
max.

S
max.

%,by mass

0.17

0.17

--

1.40

0.035

0.035
Fe E 360 D2 mechanical property

thickness

Yield StrengthReH[N/mm2]
transv.min.

TensileStrengthRm

[N/mm2]transv.

Fracture Elongation[%]transv. min.

Notch Impact
Energy1)Ch Vcomplete samplelongitud. min [J]

t≤ 16mm
t >16mm

235
225

Degree: -20
AV: 27J

t < 3mm
t≥ 3mm

360-510
340-470

Up to 1.5mm
1.51-2.00mm
2.01-2.50mm
2.51-2.99mm
≥ 3mm

16
17
18
19
24
Katalor Industry STEEL can offer Fe E 360 D2 steel ,we can give you the details of Fe E 360 D2 steel. we register Hundreds of thousands of tons of ex-stock source on our spot trade flatform.If you are interesting in our ex-stock source, please contact us.
TEL:010-56218820
FAX: 010-56218821
Oficina Dir: ROOM 3007 1# SOHO MODERN CITY, 88 NO. JIAN GUO ROAD BEI JING OF CHINA
E-mail: [email protected]
Thanks for your attention in advance
Copyright © 2011 by Shanghai Katalor Enterprises Co., Ltd. All rights reserved