Contact us
: 0086-21-61182423
: 0086-21-61182425
: ROOM 101��NO.16, 6TH BUILDING, 9TH LANE,GUANGYI ROAD,ZHUQIAO TOWN,PUDONG NEW AREA,SHANGHAI
You are here: Home- Selling list
Fe 510 2 KW steel plate,Fe 510 2 KW steel price,UNI Fe 510 2 KW steel properties
Fe 510 2 KW steel plate,Fe 510 2 KW steel price,UNI Fe 510 2 KW steel properties
Posted:2012/10/31 21:08:41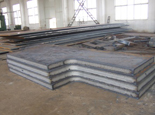 Fe 510-2-KW steel
Steel Category:Steel for Boilers and Pressure Vessels
Steel standard:UNI5859
Steel grade:UNI5859 Fe 510-2-KW
Dimension: Thickness 5-300mm, Width 1500-3500mm, Length 3000-12000mm
Application: Fe 510-2-KW steel grade is one of grade in UNI5859 , which is non alloy and alloy steels with specified elevated temperature properties. Fe 510-2-KW grades are used above all for manufacturing boilers, pressure vessels and pipes transporting hot liquids.
Supplementary Technology: HIC Test | NACE MR0175 | Z15 | Z25 | Z35 | S1 | S2 | S3 | S4.1
S5 | S6 | S7 | S8 | S9| S11 | S12 | S14 | S17.
Fe 510-2-KW steel chemical composition
Grade

The Element Max (%)

C

Si

Mn

P

S

Al(min)

N

Fe 510-2-KW

0.20

0.50

0.9-1.70

0.03

0.025

0.02

Cr

Cu

Mo

Nb

Ni

Ti

V

0.30

0.30

0.08

0.005

0.50

0.03

0.10
Fe 510-2-KW steel mechanical property
Grade

Fe 510-2-KW Mechanical Property

Thickness

Yield

Tensilmie

Elongation

Impact Energy(KV J) min

Fe 510-2-KW

mm

Min Mpa

Mpa

Min %

-20°

0°

+20°

≤ 16

355

490-630

22

47

55

63

16> to ≤35

355

490-630

22

47

55

63

35> to ≤50

345

490-630

22

47

55

63

50> to ≤70

325

490-630

22

47

55

63

70> to ≤100

315

470-610

21

47

55

63

100> to ≤150

295

450-590

21

47

55

63
Katalor Industry STEEL will offer you the details of Fe 510-2-KW in the quickest time and appeal to all kinds of requirements.If you are a trader,a producer,a purchaser,a technical person or some kind of the career, You should have no hesitation to contact us if it's available as long as you want to be the No. 1 in your steel market. Our service will not disappoint you abosolutely.
Should you need Fe 510-2-KW in UNI5859 standard, please contact us by
TEL:010-56218820
FAX: 010-56218821
Oficina Dir: ROOM 3007 1# SOHO MODERN CITY, 88 NO. JIAN GUO ROAD BEI JING OF CHINA
E-mail: [email protected]ls.com
Thanks for your attention in advance
Copyright © 2011 by Shanghai Katalor Enterprises Co., Ltd. All rights reserved