Contact us
: 0086-21-61182423
: 0086-21-61182425
: ROOM 101��NO.16, 6TH BUILDING, 9TH LANE,GUANGYI ROAD,ZHUQIAO TOWN,PUDONG NEW AREA,SHANGHAI
You are here: Home- Selling list
FBE Coating Steel Pipe specification,FBE Coating Steel Pipe price
FBE Coating Steel Pipe specification,FBE Coating Steel Pipe price
Posted:2012/12/3 20:03:59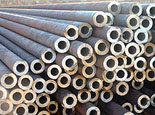 FBE Coating Steel Pipe
Category:coating steel pipe
FBE Coating Steel Pipe specification:OD:21.3mm-168.3mm
WT:2.75mm-8mm; LG:6-16m

FBE Coating Steel Pipe Description
The single-layer FBE coating steel pipe has properties of high electric strength, acid resistance, alkali resistance, long service life, high quality and salt tolerance. Due to its low impact resistance, bad bend ability and high water absorption rate, it cannot be fixed in a place where the groundwater level is high. The FBE coating layer can be classified into ordinary level and strengthened level.
The exterior appearance of the coating layer of each pipe should be visually inspected. Smooth surface, even color, no bubbles, no cracks and no shrinkage symbolized the qualified FBE coating steel pipe. The magnetic thickness gauge is utilized to measure the thickness of the four points which are equally distributed around the circumference orientation of three randomly selected places. The leakage inspection is employed by on-line diction of EDM spark locations. The set value for voltage is 5v/um.
Delivery time : within 20-40 days , mainly according to your quantity
Surface Treatment:FBE
Katalor Industry STEEL can provide FBE Coating Steel Pipe immediately, if you need FBE Coating Steel Pipe, please be free to contact us.
TEL:010-56218820
FAX: 010-56218821
Oficina Dir: ROOM 3007 1# SOHO MODERN CITY, 88 NO. JIAN GUO ROAD BEI JING OF CHINA
E-mail: [email protected]
Thanks for your attention in advance
Copyright © 2011 by Shanghai Katalor Enterprises Co., Ltd. All rights reserved