Contact us
: 0086-21-61182423
: 0086-21-61182425
: ROOM 101��NO.16, 6TH BUILDING, 9TH LANE,GUANGYI ROAD,ZHUQIAO TOWN,PUDONG NEW AREA,SHANGHAI
You are here: Home- Selling list
ERW Piling & Pile Pipes specification,ERW Piling & Pile Pipes application
ERW Piling & Pile Pipes specification,ERW Piling & Pile Pipes application
Posted:2012/11/27 20:28:49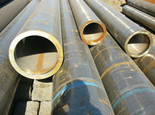 Categories:piling pipe
ERW Piling & Pile Pipes Applications:The tubular steel pile pipes, the structural support piles and cast-in-situ concrete piles are the common usage of the pilings.
Tests:Heat treatment,non-destructive test and hydrostatic test are not required when we are manufacturing the piling.
Materials:The quality grades for the piling include PSL1 type and PSL2 type and the piling is generally made of Grade 1,Grade 2 and Grade 3 steel types.
ERW Piling & Pile Pipes specifications:The maximum outer diameter for the piling is 3048mm.The maximum wall thickness is 30mm and the maximum length for a single pipe reaches 20000mm
Delivery time : within 20-40 days , mainly according to your quantity
Surface Treatment:anti-corrosion coating 3PE
Katalor STEEL can provide ERW Piling & Pile Pipes immediately, if you need ERW Piling & Pile Pipes,please be free to contact us.
Tel : 0086-21-61182423
Phone:008618317160019
008618317160029
Fax : 0086-21-61182425
skype : bsteelplate

E-mail: [email protected]
Thanks for your attention in advance
Copyright © 2011 by Shanghai Katalor Enterprises Co., Ltd. All rights reserved