Contact us
: 0086-21-61182423
: 0086-21-61182425
: ROOM 101��NO.16, 6TH BUILDING, 9TH LANE,GUANGYI ROAD,ZHUQIAO TOWN,PUDONG NEW AREA,SHANGHAI
You are here: Home- Selling list
Buy DH36 steel DNV,GL,LR,BV,ABS,KR,NK,RINA manufacturer ex-stock
Buy DH36 steel DNV,GL,LR,BV,ABS,KR,NK,RINA manufacturer ex-stock
Posted:2011/10/27 13:18:16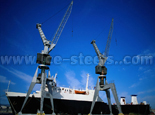 DH36 steel plate for shipbuiling&platform.The shipbuilding steel plate grade DH36 is the high tensile strength steel. DH36 shipbuilding steel is the Hull structural steel,with it's good toughness properties, higher strength,strong corrosion-resistance,the processing properties,and welding properties.ASTM A131 DH36 steel plate can be used in the manufacture of the ship's hull structure whose weight is more than 10000 tons. we promise we can offer you the qualified DH36 steel plate/sheet which is used for shipbuilding at the competitive price and rapid delivery time.
We offer grades ASTM A131 DH36 steel and A131 DH36. Like ABS A & B, these grades of steel plate are almost exclusively utilized in the Shipbuilding Industry for the construction of Structural Parts of ships, barges and Marine Equipment. All grades are certified by ABS (American Bureau of Shipbuilding) and represents the Higher Strength Group of ABS. Chapel Steel stock DH36 in the control rolled condition, DH36 steel in both the control rolled and normalized condition and DH36 in the normalized condition.
Advantage: high strengh, tensile strength is above 315, have good ductility, toughness, and excellent performance and bending to do engineering structures in cold regions
usages: for the manufacture of modern ship hull structure .can also be used for making production of engineering structures and components by welding and stamping
We keep more than 6000 tons ASTM A131 DH36 steel plate under CCS,DNV,GL,LR,
BV,ABS,KR,NK,RINA standard which is used is used for Shipbuilding at the competitive price and rapid delivery time. in our warehouse, So hereby, we sincerely hope you join us,let's join hands to make you be the No.1 in your local steel market.
Quick Details
Standard: ASTM A131
Grade: DH36 steel plate Thickness: 2-120mm
Place of Origin: BeiJing China (Mainland)
Brand Name: DH36 steel plate
Model Number: DH36 steel plate
Type: DH36 steel plate
Technique: Hot Rolled Surface Treatment: untreated/shot blasted and shop primed.
Application: Ship Plate Width: 1200-3200mm Length: 3000-18000
colour: black
Packaging & Delivery
Packaging Detail: unwrapped
Delivery Detail: within 15 days after receiving the L/C or T/T
Copyright © 2011 by Shanghai Katalor Enterprises Co., Ltd. All rights reserved