Contact us
: 0086-21-61182423
: 0086-21-61182425
: ROOM 101��NO.16, 6TH BUILDING, 9TH LANE,GUANGYI ROAD,ZHUQIAO TOWN,PUDONG NEW AREA,SHANGHAI
You are here: Home- Selling list
ASTM 321 stainless steel Special properties determine the special purpose
ASTM 321 stainless steel Special properties determine the special purpose
Posted:2013/4/10 3:26:26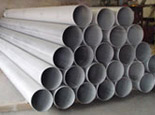 Katalor Industry as a Chinese ASTM 321 stainless steel exporter to the world, offer ASTM 321 stainless steel Special properties and special purpose, ASTM 321 stainless steel special performance determines its special use.
ASTM 321 stainless steel is a Ni-Cr-Ti type austenitic stainless steel, its performance, and 304 are very similar, but due to the addition of titanium, it has a better intergranular corrosion resistance and high temperature strength. The addition of titanium to make it effective control of the formation of chromium carbide.
ASTM 321 stainless steel with excellent high-temperature stress rupture (Stress Rupture) performance and high-temperature creep resistance (Creep Resistance) stress and mechanical properties than the 304.
ASTM 321 stainless steel used in the open field machinery of grain boundary corrosion resistance requirements for high chemical, coal, oil industry, building materials heat resistant parts and difficult parts: oil and gas flaring pipes, engine exhaust pipes, boiler shells, heat exchangers , furnace parts, diesel engine silencer parts, boilers and pressure vessels, chemical truck, expansion joints, burner pipe and dryer spiral welded pipe.
Katalor Industry offer Quality ASTM 321 stainless steel stock, various specifications and delivery status of ASTM 321 stainless steel, we can meet all your needs, please contact us or send us e-mail ([email protected]) ASTM 316 stainless steel.
Copyright © 2011 by Shanghai Katalor Enterprises Co., Ltd. All rights reserved