Contact us
: 0086-21-61182423
: 0086-21-61182425
: ROOM 101��NO.16, 6TH BUILDING, 9TH LANE,GUANGYI ROAD,ZHUQIAO TOWN,PUDONG NEW AREA,SHANGHAI
You are here: Home- Selling list
API 5CT Casings pipe specfication,API 5CT Casings pipe application
API 5CT Casings pipe specfication,API 5CT Casings pipe application
Posted:2012/11/25 20:13:52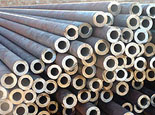 Category:API 5CT Casing pipe
API 5CT Casings Steel Pipes specification:OD:21.3mm-168.3mm
WT:2.75mm-8mm; LG:6-16m

Description:The tempering heat treatment should be simulated around the welding line. Both ends of the pipe should be perpendicular to the center line and there should be no blurs on the interior seamed edge or the exterior edge.
API 5CT Casings steel pipe Applications:The API 5CT casing is typically used as components for oil fielding casings and oil drums.
Technical specifications:The rating standards for the API 5CT casing include H40, J55 and K55 steel pipes.
Materials :H40, J55 and K55 steel types are used to manufacture the API 5CT ERW steel pipe.
Delivery time : within 20-40 days , mainly according to your quantity
Surface Treatment:anti-corrosion coating 3PE
Katalor steel can provide API 5CT Casings steel pipe immediately, if you need API 5CT Casings, please be free to contact us.
Tel : 0086-21-61182423
Phone:008618317160019
008618317160029
Fax : 0086-21-61182425

E-mail: [email protected]
Thanks for your attention in advance
Copyright © 2011 by Shanghai Katalor Enterprises Co., Ltd. All rights reserved