Contact us
: 0086-21-61182423
: 0086-21-61182425
: Room 301,Unit 6,lane 2500,xiupu Road,Kangqiao Industrial Area,Pudong New District,Shanghai
Taiwan's China Steel additional investment in India Factory
Posted:2013/8/14 5:46:46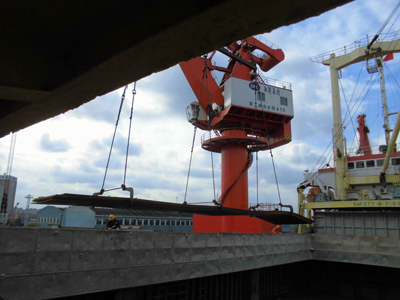 Taiwan's China Steel Board August 9 Indian companies through additional investment in steel and many other investment projects with an estimated total investment of up to NT $ 6.591 billion yuan, which accounted for the Indian companies to invest NT $ 1.8 billion proposal.
In addition to additional electrical steel plating production lines insufficient funds, but also for the second phase one million tons, roughly a total investment of up to NT $ 20 billion expansion of cold-rolled production lines related to the case, every precaution necessary to sights on India Future general motors market opportunities.
In addition, following the early July Ports Corporation and Taiwan signed the build offshore power generation industry assemble harbors and industrial park, the letter of intent, the Board also adopted the steel further established the Preparatory Office of wind power company, is expected next year in June officially the fastest operation of offshore wind energy positive inroads big business.
Steel pointed out that the steel in the last year, that is, in New Delhi, India invested $ 178 million (equivalent to NT over 5.3 billion) to build the annual output of high-standard electrical steel plating production lines, of which accounted for 6,658 steel-owned models Wan U.S. dollars (equivalent to nearly 20 billion yuan NT), currently ongoing construction in the third quarter is expected to be completed next year production, then will immediately start the second phase expansion of the case, including the annual output of 1 million tons of cold-rolled, galvanized and pickling painted oil production line.
Steel said that the Indian steel companies SteelCorporation 100% invested company, is currently undergoing the first phase of electrical steel production line construction project, in consideration of the future scalability and integrity of public facilities, will not be a second phase of the project of water, gas demand in the planning, so that the first phase of the project budget increases, with increased investment decisions Steel 6,006 million.
Steel further said that some Indian companies to increase investment, in addition to an additional NT $ 400 million yuan for the first phase of the production line, the rest more than 1.3 billion yuan will be invested in response to two public facilities required for the expansion part.
Board to invest in the 2nd through sintering flue gas desulfurization and denitrification plan proposal. Steel said that in the 2nd additional sintering plant desulfurization and denitrification equipment each set, and relocation of existing equipment renovation project with a total investment amount of NT $ 2.216 billion yuan, plan period starting from September 2013 to August 2017 months to complete a term of four years. The other will be the first workshop a hot rolled coil, the 2nd furnace equipment renewal plan proposal.
Steelsaid that the case is expected to invest a total amount of NT $ 1.705 billion yuan, duration since 102 years from September 1 to October 31 106 years to complete, a total of 4 years and 2 months. Upon completion, the ability to improve the production of high-grade products, the estimated annual cost savings of about 252 million yuan, to make our products more competitive.
The Board also through the purchase of land cases. Steel that will total NT $ 870 million purchase in Kaohsiung city woods paragraph No. 1103-1 to all land and the building 3.
We can offer 201,310,310S,316L stainless steel stock at any time.AS a stainless steel supplier in China.More about 201,310,310S,316L stainless steel,you can contact us at any time.
Copyright © 2011 by Shanghai Katalor Enterprises Co., Ltd. All rights reserved