Contact us
: 0086-21-61182423
: 0086-21-61182425
: Room 301,Unit 6,lane 2500,xiupu Road,Kangqiao Industrial Area,Pudong New District,Shanghai
ST12 Cold Rolled Steel Performance Specification
Posted:2017/4/5 4:36:15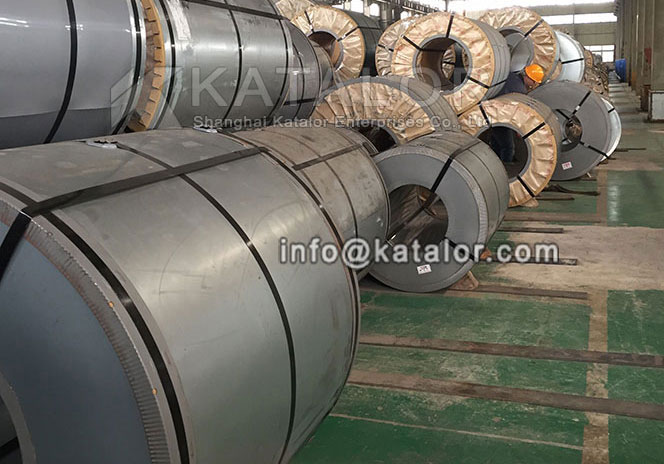 ST12 is the German standard (DIN1623), which equivalent to EN10130 DC01, JIS SPCC. Cold rolled steel is the most common and most commonly used cold rolled products for us, and its steel grade are generally divided into ST12, ST14, ST15, ST16, etc. Cold rolled steel's mechanical properties are the most common and the most basic steel. Besides, Cold rolled steel can only bend, forming, but not allowed to stamping in principle.
C≤0.10,
Mn ≤0.50,
P≤0.035,
S≤0.035,
Alt a≥0.020
ST12 mechanical properties:
Yield strength a MPa ≤ 280;
Tensile strength MPa ≤ 270 ~ 410;
Elongation after breaking (L0 = 80mm, b = 20mm)% ≥ 28
ST12 Cold rolled strip Application
ST12 Cold rolled strip is widely used in automobile manufacturing, electrical products, locomotives and rolling stock, aviation, precision instruments, canned food and so on.
Features of ST12 Cold Rolled Steel
1, ST12 is a common cold-rolled steel, ST13 stamping grade cold-rolled steel, ST14 is a deep drawing grade cold-rolled steel
2, ST12 is the most widely used steel, and it is basically the same material with q195, SPCC, DC01 grade
3, Symbol: ST-steel (Steel), 12-ordinary cold-rolled thin steel
4, Surface quality: FC - Advanced finishing surface, FB - Advanced finishing surface.
As a company with long history,Shanghai Katalor Enterprises has enough experience to guarantee the quality. We can also get competitive price for these goods in China's Market. We are a professional ST12 Cold Rolled Steel stockist and supplier. We can supply different types and grades of cold rolled steel. If you want to get the price, please do not hesitate to contact us.
Copyright © 2011 by Shanghai Katalor Enterprises Co., Ltd. All rights reserved