Contact us
: 0086-21-61182423
: 0086-21-61182425
: Room 301,Unit 6,lane 2500,xiupu Road,Kangqiao Industrial Area,Pudong New District,Shanghai
NWE market continues to spiral down
Posted:2013/6/27 22:55:08
As scrap prices fall, demand slackened further NWE rebar and wire rod market continues to fall.
June German scrap prices fell 25 euros / tonne, local rebar and wire rod prices fall 10 euros / ton, respectively, to 460-465 euros / tonne and 450-460 euros / ton. France and the Benelux region and Germany offer considerable offer.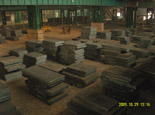 Because buyers can not determine whether the market has bottomed out, so only demand procurement. Another entered since July after the summer break, steel mills generally stop 3-5 weeks, although the market supply will have to be cut, but the slowdown in demand synchronization, so still not enough to drive the market rebounded. In addition, scrap slowdown, the market is expected in July scrap prices will decline further 10-15 Euro / ton. NWE expected shortly spiral market will remain weak.
Copyright © 2011 by Shanghai Katalor Enterprises Co., Ltd. All rights reserved