Contact us
: 0086-21-61182423
: 0086-21-61182425
: Room 301,Unit 6,lane 2500,xiupu Road,Kangqiao Industrial Area,Pudong New District,Shanghai
Korean steel exports in the first half of 2013 decreased by 11.9%
Posted:2013/7/2 2:14:13
Korean steel exports in the first half of this year, $ 163.7 trillion, down 11.9%, mainly due to the export market downturn in demand in China and Japan, and with the international steel market weakness, the export price is also in decline.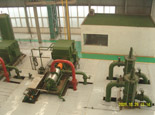 Among them, Japan's exports fell 27.9 percent, the United States fell 16.3 percent, down 9.2 percent year on year in Latin America, ASEAN fell 4.8 percent, China decreased by 4%, while exports to the CIS grew 18.4 %, an increase of 6.8% for the EU.
we provides various types of steel, boiler steel, weathering steel, stainless steel and so on. Our steel products come from domestic large steel mills, quality assurance tour, if you need to send your specific requirements to our e-mail.
Copyright © 2011 by Shanghai Katalor Enterprises Co., Ltd. All rights reserved