Contact us
: 0086-21-61182423
: 0086-21-61182425
: Room 301,Unit 6,lane 2500,xiupu Road,Kangqiao Industrial Area,Pudong New District,Shanghai
Korean H-beam market stable
Posted:2013/6/27 4:44:17
Although South Korea has begun to enter the rainy season, but compared with previous years, the rainfall is small, the local construction industry demand is relatively slightly better. With the H-beam Korea May imports fell 37% market share in local steel mills rebounded. Imports are expected to decline further this month. Hyundai Steel said that the current H-beam production line to maintain its full production status.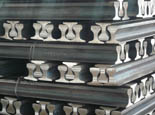 Steel said in May H-beam Korea imports declined mainly due to the introduction of special H-shaped steel mills to compete with low-priced imports. It is reported that a small modern steel H-beam price 740,000 won / t ($ 641 / t), the H-beam to 760,000 won / t ($ 659 / t).
Korea Iron Steel Association announced May H-beam Korea imported 49,300 tons, down 37%. Which imported 42,200 tons from China, down 34%; imported from Japan 6,600 tons, down 52%.
Tags:S315MC,S355MC,S420MC,S460MC
Copyright © 2011 by Shanghai Katalor Enterprises Co., Ltd. All rights reserved