Contact us
: 0086-21-61182423
: 0086-21-61182425
: Room 301,Unit 6,lane 2500,xiupu Road,Kangqiao Industrial Area,Pudong New District,Shanghai
JIS G3141 SPCC Cold Rolled Steel Coil Classification
Posted:2017/3/30 3:09:48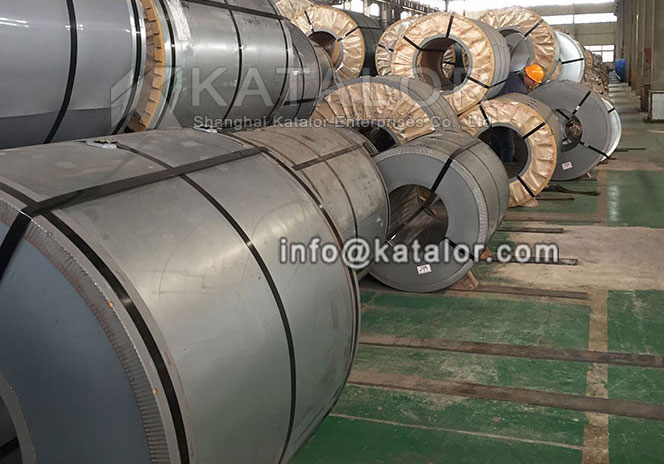 SPCC cold rolled coil is commonly known as cold rolled steel plate. It is made of ordinary carbon hot rolled steel strip, and then turn into a thickness of less than 4mm steel plate through cold rolled.
SPCC Hot Rolled Coil Features:
Compared with hot-rolled coil, SPCC cold rolled coil surface quality, appearance, dimensional accuracy are significantly better than hot-rolled coil, and its product thickness can up to about 0.18mm.
Chemical Compositions of SPCC Steel Coil, max, %
C ≤0.10
Si ≤0.05
Mn≤0.50
P ≤0.035
S ≤0.025
JIS G3141 SPCC Mechanical Property
Grade

Yield Strength
MPa,

Tensile Strength
Rm MPa

SPCC

130~300

270~410
SPCC Cold Rolled Steel Coil Applications
JIS G3141 SPCC is widely used in automotive, home appliances, hardware, aviation, industrial equipment and construction industries.
The Components of SPCC
SPCC indicate that the general use of cold-rolled carbon steel sheet and strip, and its chemical compositions and mechanical properties equivalent to the Chinese grades Q195 and Q215A. The third letter C is an abbreviation for Cold.
Shanghai Katalor Enterprises Co., Ltd is a big complex combined steel stockist whose business related to trade, processing, storage and transportation. We are specialized in supplying JIS G3141 SPCC Cold Rolled Steel Coil. We have advanced equipment. Our products are with high quality, which can meet the state standard and customers' requirement. If you have any need of JIS G3141 SPCC, please do not hesitate to contact us by email [email protected], we can do our best to help you!
Copyright © 2011 by Shanghai Katalor Enterprises Co., Ltd. All rights reserved