Contact us
: 0086-21-61182423
: 0086-21-61182425
: Room 301,Unit 6,lane 2500,xiupu Road,Kangqiao Industrial Area,Pudong New District,Shanghai
How does JIS G3101 SS400 Steel Plate compare to other Iron Alloys
Posted:2017/3/15 23:22:17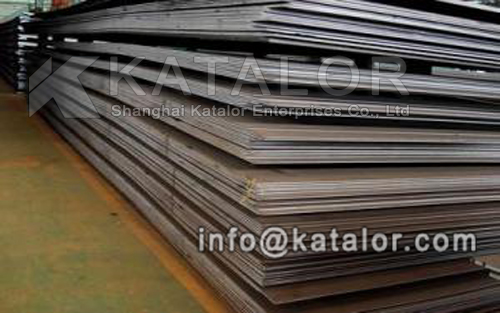 JIS G 3101 SS400 is the Japanesesteel material of a marking, the equivalent of the domestic Q235 steel and it is one of the most commonly used hot rolled general structural steel.
Application of G3101 SS400
SS400 Steel are cheap, excelling in weld ability machinability, and it is mainly used in a general structure, such as buildings, bridges, ships, rail vehicles and other structures
SS400 Chemical Composition Grade

The Element Max (%)

P

S

Mn

C

S

SS400

≤0.050

≤0.050

..

…

..
As per JIS G 3101, Carbon (C), Silicon (Si) and Manganese (Mn) content are not controlled. Phosphorus (P) 0.05% Max and Sulphur (S) 0.05% Max have to controlled below these levels.
JIS G3101 SS400 Mechanical Property
| | |
| --- | --- |
| Mechanical Property ofSS400steel plate | SS400 |
| Tensile strength, Min,Mpa | 400-510 |
| Yield strength, thickness | Min,Mpa |
| 6<a≤16mm | ≥245 |
| 16<a≤40mm | ≥235 |
| a>40mm | ≥215 |
SS400 Equivalents
1, DIN Equivalents for JIS SS400
17100 St 44-2
2, ASTM Equivalents for JIS SS400
ASTM A36, ASTM A283 Grade D
3, EN Equivalents for JIS SS400
EN S275/ BS 43A
we are specialized in supplying JIS G3101 SS400 Steel Plate. We have the good quality and advanced equipment, our products meet the state standard, and also available for customers' requirement. If you have any need of JIS G3101 SS400, please do not hesitate to contact us by email [email protected], we can do our best to help you!
Copyright © 2011 by Shanghai Katalor Enterprises Co., Ltd. All rights reserved