Contact us
: 0086-21-61182423
: 0086-21-61182425
: Room 301,Unit 6,lane 2500,xiupu Road,Kangqiao Industrial Area,Pudong New District,Shanghai
You are here: Home- News
GB/T713 Q370R Boiler and Pressure Vessel Steel Plate Impacting Test Temperature
GB/T713 Q370R Boiler and Pressure Vessel Steel Plate Impacting Test Temperature
Posted:2017/3/2 1:28:48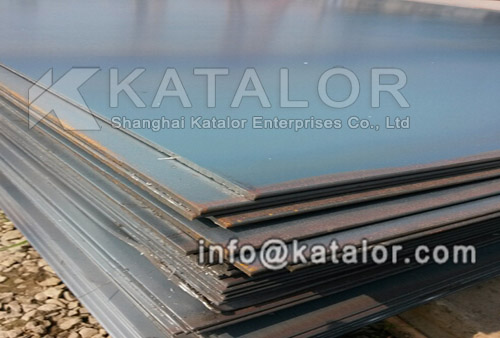 GB/T 713 Stand Specification for boiler and pressure purposes, technical delivery condition and non- alloy, alloy steels with specified elevated temperature properties. High strength boiler steel plate Q370R shall be done Normalized heat treatment normally when rolling.
Keyword: Q370R, GB/T 713 Q370R, Q370R Steel, Q370R HIC, Q370R NACE GB713 Q370R Storage Tanks Steel plate. GB713 Q370R Heat Exchanger Steel Plate.
Q370R boiler and pressure vessel steel plates are widely used in the industries of petroleum, chemistry, power station and boiler. GB/T713 Q370R can also be used to make equipment and components of reactor, heat exchanger, spherical tank, oil gas tank
Q370R Boiler Steel Chemical Composition and Mechanical Property:
Grade

Chemical Composition (%)

C

Mn≥

Si

P

S

GB713 Q370R

0.18

1.20-1.60

0.55

0.025

0.015

Grade

Mechanical Property

Tensile Strength(MPa)

Yield Strength(MPa)

% Elongation in 2 in.(50mm) min

Impacting Test Temperature(°C)

GB713 Q370R

530-630

370

20

-20
Technical Requirements Additional Services of GB/T713 Q370R:
♦High tension test
♦ Cutting and welding as per end user's demands
♦ Simulated post-welded heat treatment (PWHT)
♦ Rolling under standard NACE MR-0175 (HIC+SSCC)
♦ Issued Original Mill test certificate under EN 10204 FORMAT 3.1/3.2
♦ Ultrasonic test under GB/T2970,JB4730,EN 10160,ASTM A435,A577,A578
Q370R Pressure Vessel Steel Plate Specification
Type: Steel Plate
Standard: ASTM, AISI, GB, JIS, DIN, BS
Certification: ISO, SGS, BV, RoHS, IBR
Surface Treatment: Hot Rolled, Quenched, Tempered, Normalizing
Technique: Hot Rolled
1.thickness: 6~150mm
2.width:1500~4000mm
3.length:3000~12000mm
We can supply any size based on customer's requirements
We are a trusted and reliable brand for our high quality and good manufacturing of GB/T713 Q370R Boiler and Pressure Vessel Steel Plate. Our company has been a manufacturer and exporter of GB/T713 Q370R for decades, and has been sold all over the world with favorable price. As a responsible enterprise, we always stick to be your satisfying partner.
Copyright © 2011 by Shanghai Katalor Enterprises Co., Ltd. All rights reserved