Contact us
: 0086-21-61182423
: 0086-21-61182425
: Room 301,Unit 6,lane 2500,xiupu Road,Kangqiao Industrial Area,Pudong New District,Shanghai
You are here: Home- News
GB/T 713 15CrMoR Pressure Vessel and Boiler Steel Plate permissible deviation
GB/T 713 15CrMoR Pressure Vessel and Boiler Steel Plate permissible deviation
Posted:2017/2/23 22:35:34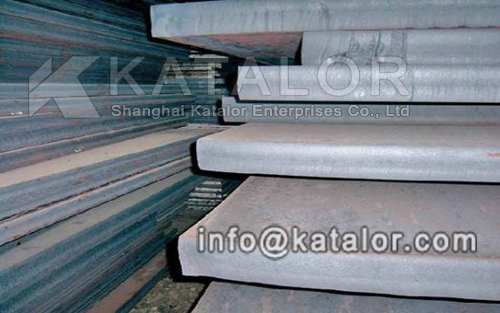 The standard ofGB 713 is applicabletothe boiler and its accessories and the pressure parts of normal pressure vessel for 3 mm thickness steel plates. GB 713 15CrMoR are also mainly used to build boilers and pressure vessels such as petroleum, chemical industry, power plants.
Keyword: 15CrMoR datasheet, 15CrMoR mechanical properties, chemical element 15CrMoR, technical specifications of 15CrMoR steel material properties. 15CrMoR performance specifications.
Mechanical property for 15CrMoR Pressure vessel steel:

Thickness (mm)

15CrMoR

> 6 ≤ 60

> 60 ≤ 100

>100

Yield strength (≥Mpa)

295

275

255

Tensile strength (Mpa)

450-590

440-580
Chemical composition for 15CrMoR Pressure vessel steel (Heat Analysis Max%)

Main chemical elements composition of 15CrMoR

C

Si

Mn

P

S

Cr

Mo

0.12-0.18

0.15-0.40

0.40-0.70

0.025

0.010

0.80-1.20

0.45-0.60
1, Standard:GB 713 Standards.
2, Specifications (T*W*L):3--200mm * 1200--3400mm * 3000--12000mm
We can supply any size based on customer's requirements
3, Delivery Condition: Plates are normally supplied in the tempered or normalized condition.
4, Teat:Z Direction of Tensile Test (Z15, Z25 or Z35), Surface Condition Test, Charpy V-Notch Impact Test, Drop Weight Test, High Temperature Tension Test, Ultrasonic Examination (GB/T 2970 or A435 or A578 or EN10160).
5, Surface Treatment: Shot blasting and painting or coated
Additional technical services for 15CrMoR boiler steel plate
Treatment(Normalized, TMCP, Quenched and Tempered, N+T),Z-test (Z15,Z25,Z35),Ultrasonic Examination, Low temperature impacting test, DWTT, PWHT and cutting & welding into special pieces for end users. Mill test certificate issued under EN 10204 format.
Shanghai Katalor Enterprises Co., Ltd is specialized in supplying GB/T 713 15CrMoR Pressure Vessel and Boiler Steel Plate. Besides that, Shanghai Katalor Enterprises Co., Ltd is also a manufacture, so we could promise the delivery time and the competitive price compared with other company. We sincerely hope new and regular customers come to visit our mill and inquiry GB/T 713 15CrMoR from Katalor.
Copyright © 2011 by Shanghai Katalor Enterprises Co., Ltd. All rights reserved