Contact us
: 0086-21-61182423
: 0086-21-61182425
: Room 301,Unit 6,lane 2500,xiupu Road,Kangqiao Industrial Area,Pudong New District,Shanghai
You are here: Home- News
GB3531 16MnDR Pressure Vessel and Boiler Steel Plate Equivalent Steel Material
GB3531 16MnDR Pressure Vessel and Boiler Steel Plate Equivalent Steel Material
Posted:2017/2/27 22:42:40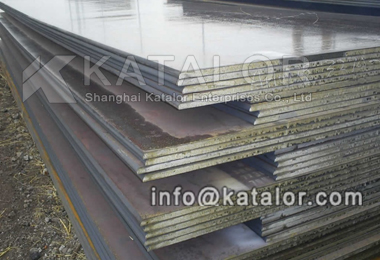 Steel grade 16MnDR under specification GB 3531 is mainly rolling as steel plates for low temperature boiler and pressure vessel usage. GB3531 16MnDR is widely used in petrochemical industry, energy industry, science research and war industry.
Key Words: 16MnDR datasheet, 16MnDR mechanical properties, chemical element 16MnDR, technical specifications of 16MnDR steel material properties. 16MnDR performance specifications.
Chemical composition of GB3531 16MnDR
16 MNDR chemical composition: carbon (C) 0.20 or less
16 MNDR chemical composition of silicon (Si): 0.15 ~ 0.50
16 MNDR chemical composition of manganese (Mn): 1.20 ~ 1.60
16 MNDR chemical phosphorus (P): 0.025 or less
16 MNDR chemical composition of sulfur (S): 0.012 or less
16 MNDR chemical composition of aluminum (Al): 0.02 or higher
16MnDR Pressure Vessel Steel Mechanical property
Brand

Thick/mm

Yield Rm/Mpa(N/mm2)

Tensile ReL/Mp(N/mm2)

Elongation A/%

Impact test /°C

Impact strength KV2/J

180° Bending test
d=Diameter of apex
a=Specimen thickness

Not less than

Not less than

16MnDR

6~16

490-620

315

21

-40

47[2]

d=2a

18736064608

>16~36

470-600

295

21

-40

34

d=3a

>36~60

460-590

285

21

-40

34

d=3a

>60~100

450-580

275

21

-40

34

d=3a

>100~120

440-570

265

21

-40

34

d=3a
GB3531 16MnDR Steel Specification:
Steel Standard: GB 3531
Rolling Type: Boiler steel plate, Pressure vessel steel plate
Thickness:6mm-300mm
Width: 1500mm-4000mm
Length: 3000mm-12000mm
Besides, the size can be customized.
Heat Treatment: Normalized/Normalized +Tempered
Your requirements are our yardstick for success. KATALOR's service has already spread many countries in Europe, America, Southeast Asia, Middle East, South America, Africa, and so on. Our aim is to provide high quality products and outstanding service. Contact our 16MnDR Pressure Vessel and Boiler Steel Plate sales team freely if you have any needs.
Copyright © 2011 by Shanghai Katalor Enterprises Co., Ltd. All rights reserved