Contact us
: 0086-21-61182423
: 0086-21-61182425
: Room 301,Unit 6,lane 2500,xiupu Road,Kangqiao Industrial Area,Pudong New District,Shanghai
Asian stainless steel market remains weak
Posted:2013/6/30 23:32:25
Last week, the East Asian production 304/2B 2mm cold rolled stainless steel from the mainstream price 2300-2380 U.S. dollars / ton (CFR) further narrowed to 2300-2350 U.S. dollars / ton (CFR).
South Korea and China Taiwan resources offer by the 2350-2400 U.S. dollars / ton (CFR) dropped to 2350-2360 U.S. dollars / ton (CFR), the actual turnover receive 20-30 U.S. dollars / ton discount. With the recent nickel price fell further, the market is expected to Asian steel prices have not hit bottom.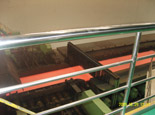 Stainless steel often divided by organizational status: martensitic steels, ferritic steels, austenitic steels, austenitic - ferritic (duplex) stainless steel and precipitation hardening stainless steel. Addition, components can be divided into: chrome stainless steel, chrome-nickel stainless steel and chrome-manganese nitrogen stainless steel.
we offers a variety of stainless steel, there are plenty of stainless steel cash resources, please send your specific requirements to our email.
Copyright © 2011 by Shanghai Katalor Enterprises Co., Ltd. All rights reserved