IS 2062 E450/Fe 570HTHT steel plate grade, Fe 570HTHT steel plate specification
Posted:2013-11-30 02:48:10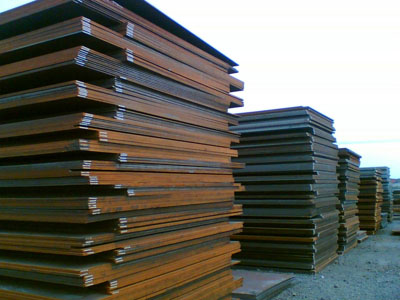 As a steel supplier in China,we can offer IS 2062 E450/Fe 570HT steel plate grade,the best price of Fe 570HT steel plate, ,Fe 570HT steel plate application and specification.
Fe 570HT steel plate specification:
Thickness 6mm-300mm, Width: 1500-4020mm, Length: 3000-27000mm
IS 2062 is India standard covers the requirements of steel including micro-alloyed steel plates, strips, shapes and section.
IS 2062 E450/Fe 570HTHT steel application,Fe 570HTHT steel plate mainly used in many applications, combining good welding properties with guaranteed strengths and the uses varied including civil and industrial engineering.
Our services about IS 2062 E450/Fe 570HTHT steel:
1. Accurate quotation of Fe 570HTHT steel plate, to reduce purchasing cost for you.
2. Timely communication, allowing you to monitor the entire production process and the progress.
3. Superior quality about Fe 570HTHT plate, letting you go through the inspection of steel and supervise the quality of the finished products
4. Considerable transportation ,helping you to reduce the transportation cost and let you know the circumstance of the transport at any time.
5. Insurance of quality, making you get the original factory warranty for you as soon as possible , and letting you carry out the producing and working plan in the next step.
6. High-quality after-sales of Fe 570HTHT,helping you to get the invoice as soon as we can and provide advice and support in billing management.
7. Subsequent tracking service, offering feedback to the steel mill, and making our service more considerate.