Contact us
: 0086-21-61182423
: 0086-21-61182425
: ROOM 101��NO.16, 6TH BUILDING, 9TH LANE,GUANGYI ROAD,ZHUQIAO TOWN,PUDONG NEW AREA,SHANGHAI
You are here: Home- Selling list
EN10028-3 P460NL1 P275NL1 steel plate ,EN 10028-3 P460NL1 pressure vessel steel plate
EN10028-3 P460NL1 P275NL1 steel plate ,EN 10028-3 P460NL1 pressure vessel steel plate
Posted:2016/1/14 21:32:43
P460NL1 P275NL1 steel grade is one of grade in En10028-3, which is non alloy and alloy steels with specified elevated temperature properties.EN 10028:3 P460NL1 shows that this is steel for pressure purposes (P) with minimum yield strength of 460 MPa (460) which is impact tested in the transverse direction at -40 deg C
Products size we mainly supply:Thickness: 6mm to 300mm, Width: 1500mm to 4050mm, Length: 3000mm to 15000mm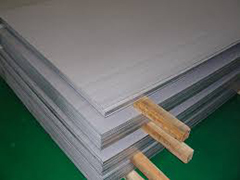 Chemical Requirements - P460NL1
(cast analysis, % by mass, maximum permitted unless indicated otherwise)
| | | | | | | | |
| --- | --- | --- | --- | --- | --- | --- | --- |
| C | Si | Mn | P | S | Altotal * | N | Cr |
| 0.20 | 0.60 | 1.10-1.70 | 0.025 | 0.015 | 0.020 min | 0.025 | 0.30 |
| Cu ** | Mo | Nb | Ni | Ti | V | Nb+Ti+V | |
| 0.70 | 0.10 | 0.05 | 0.80 | 0.03 | 0.20 | 0.22 | |
*The Al content may fall short of this minimum if Nb, Ti, or V are additionally used for Nitrogen binding. If only Al is used for Nitrogen binding, the ratio Al/N shall be 2 or greater.
Mechnical property for P460NL1 pressure vessel steel:
Thickness(mm)
Yield strength (≥Mpa)
Tensile strength (Mpa)
Elongation in ≥,%
T≤16
460
570-720
17
16<T≤40
445
40<T≤60
430
60<T≤100
400
540-710
100<T
400
540-710
With the advantage of Professional in steel knowledge for guanrantee steel property. Widest steel resources for accepting customers' small orders. Closest relationships with china national mills for guanrantee delivery time and even delivery in advance.we can supply all kinds of steel products with high quality,if you need EN10028-3 P460NL1 P275NL1 steel plate,please contact us by email or calling us ,we will give you the best help as soon as help!
Copyright © 2011 by Shanghai Katalor Enterprises Co., Ltd. All rights reserved