Contact us
: 0086-21-61182423
: 0086-21-61182425
: ROOM 101��NO.16, 6TH BUILDING, 9TH LANE,GUANGYI ROAD,ZHUQIAO TOWN,PUDONG NEW AREA,SHANGHAI
You are here: Home- Selling list
Analysis of GB3531 Grade 09MnNiDR Pressure Vessel and Boiler Steel Plate Composition
Analysis of GB3531 Grade 09MnNiDR Pressure Vessel and Boiler Steel Plate Composition
Posted:2017/2/22 0:45:52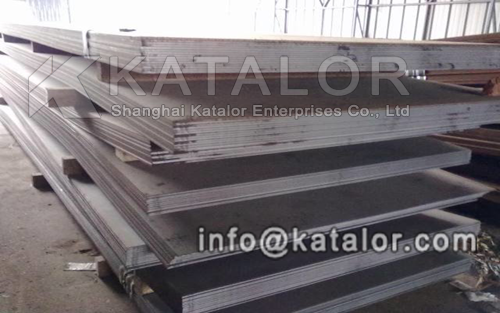 Boiler steel grade GB 3531 09MnNiDR is Manganese-Nickel alloy steel, the letter D is for low temperature using, the letter R is for boiler and pressure vessel using. Grade 09MnNiDR are used in Pressure Vessel, Boiler, Storage Tanks and Heat Exchanger in Oil, Gas Project.
GB3531 Grade 09MnNiDR Other Name
GB3531 09MnNiDR Boiler steel plate, GB3531 09MnNiDR Pressure Vessel Steel plate, GB3531 09MnNiDR Storage Tanks Steel plate. GB3531 09MnNiDR Heat Exchanger Steel Plate
Chemical Composition and Mechanical Property of GB3531 Grade 09MnNiDR
Grade

Chemical Composition (%)

C

Mn≥

Si

P

S

GB3531 09MnNiDR

0.12

1.20-1.60

0.15-0.50

0.020

0.015

Grade

Mechanical Property

Tensile Strength( MPa)

Yield Strength(MPa)

% Elongation in 2 in.(50mm) min

Impacting Test Temperature(°C)

GB3531 09MnNiDR

440-570

300

23

-70
09MnNiDRTechnical Requirements Additional Services:
1,Charpy V-notch impact test at low temperature
2, Cutting and welding as per end user's demands
3, Simulated post-welded heat treatment (PWHT)
4, Rolling under standard NACE MR-0175 (HIC+SSCC)
5, Issued Original Mill test certificate under EN 10204 FORMAT 3.1/3.2
6, Ultrasonic test under GB/T2970,JB4730,EN 10160,ASTM A435,A577,A578
GB3531 Grade 09MnNiDR Specification:
Steel Standard: GB 3531
Rolling Type: Boiler steel plate, Pressure vessel steel plate
Thickness: 6mm-300mm
Width: 1500mm-4000mm
Length: 3000mm-12000mm
We can supply any size based on customer's requirements.
Heat Treatment: Normalised / Normalised +Tempered
Your requirements are our yardstick for success. KATALOR's service has already spread many countries in Europe, America, Southeast Asia, Middle East, South America, Africa, and so on. Our aim is to provide high quality products and outstanding service. Contact our GB3531 Grade 09MnNiDR pressure vessel steel plate sales team freely if you have any needs.
Copyright © 2011 by Shanghai Katalor Enterprises Co., Ltd. All rights reserved