Contact us
: 0086-21-61182423
: 0086-21-61182425
: ROOM 101��NO.16, 6TH BUILDING, 9TH LANE,GUANGYI ROAD,ZHUQIAO TOWN,PUDONG NEW AREA,SHANGHAI
You are here: Home- Selling list
ASTM A202 Grade A steel plate,A202 grade A Pressure Vessel plate
ASTM A202 Grade A steel plate,A202 grade A Pressure Vessel plate
Posted:2015/11/2 1:54:59
ASTM A204 Gr.A is a kind of Mo-alloy steel material used to fabric high temperature pressure vessels. A204 this property is based on it's Mo composition. ASTM A-204/A-204M A204 has three grades or levels-- Grade A/B/C.ASTM A202 Grade A(A202GRA) Pressure Vessel And Boiler Steel Plate are used in Pressure Vessel,Boiler,Storage Tanks and Heat Exchanger in Oil,Gas Project.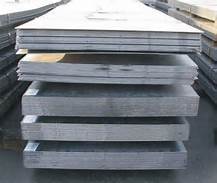 Dimension: Thickness: 6MM to 300MM,
Width: 1500mm to 4050mm,
Length: 3000mm to 15000mm
Grade

Chemical Composition(%)

C

Mn≥

Si

P

S

A202 Grade A

(A202GRA)

0.17

0.97-1.52

0.54-0.96

0.035

0.035

Grade

Mechanical Property

Tensile Strength(MPa)

Yield Strength(MPa)

% Elongation in 2 in.(50mm) min

Impacting Test Temperature(°C)

A202 Grade A

(A202GRA)

515-655

310

19

-20,40,-60
Steel Services: Cutting, Painting, Pretreatment, and The third party inspection in DNV, BV, LR, ABS, SGS ,etc and others in super thick ship steel plate.
We can supply different product type of ASTM A204. To find out more about A202 Gr.A or other boiler and pressure vessel steel plate, and to receive a competitive quotation for supply of this material, please do not hesitate to contact us .
Copyright © 2011 by Shanghai Katalor Enterprises Co., Ltd. All rights reserved