Contact us
: 0086-21-61182423
: 0086-21-61182425
: ROOM 101��NO.16, 6TH BUILDING, 9TH LANE,GUANGYI ROAD,ZHUQIAO TOWN,PUDONG NEW AREA,SHANGHAI
You are here: Home- Selling list
ASME SA612M Pressure Vessel And Boiler Steel Plate,ASME SA612M plate
ASME SA612M Pressure Vessel And Boiler Steel Plate,ASME SA612M plate
Posted:2016/1/13 1:17:45
we can supply ASME SA612 pressure vessel steel plate, mainly used in construction for welding boilers and other pressure vessels.we mainy supply Production Size: Thickness: 4mm- 400mm; Width: 1000mm- 4000mm; Length: 4000mm- 12000mm.we also can supply different size as your needs.We have complete knowledge about application of various grades to your demanded working enviroment since beginning. Besides, we have our own extra-ordinary firmed link with several Iron&Steel Institutes with great reputation in China.In order to put our idea into practice and realize our sacred promise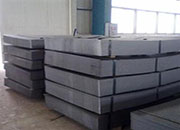 Chemical Composition and Mechanical Property:
Grade

Chemical Composition(%)

C

Mn≥

Si

P

S

ASME SA612M

0.29

0.13-0.55

0.92-1.62

0.035

0.025

Grade

Mechanical Property

Tensile Strength(MPa)

Yield Strength(MPa)

% Elongation in 2 in.(50mm) min

Impacting Test Temperature(°C)

ASME SA612M

562-725

345

16

-20,40,-60
we work on our special customer service stype requiring consummate professionalism and man-to-man communication, which are our incomparable advantages different from other large corporations whose treating customers equally without discrimination. so if you need any kinds of steel ,please contact us for more information,we can give you our best service and price!
Copyright © 2011 by Shanghai Katalor Enterprises Co., Ltd. All rights reserved