Contact us
: 0086-21-61182423
: 0086-21-61182425
: ROOM 101��NO.16, 6TH BUILDING, 9TH LANE,GUANGYI ROAD,ZHUQIAO TOWN,PUDONG NEW AREA,SHANGHAI
API 5L X 65 Line Pipe
Posted:2013/10/9 3:33:39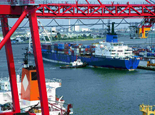 AS a steel supplier in China, We are supplying API 5L X65 PSL 2 Pipe to all over the world.
Line pipe mechanical testing usually omits Reduction of Area (RA) measurement reporting, and Charpy V-Notch (CVN) testing. This prevents use of this pipe as body material above 36 ksi yield strength for API Spec 6A equipment without retesting for Reduction of Area, and in the case of low temperature service, Charpy V-Notch testing as well.
Offer all kinds of Line pipe stock, API 5L X 65, X70, X80, X100, X120 and so on. Various sizes and specifications to meet your needs,and if you need any API 5L X 65, X70, X80, X100, X120,please contact us at any time.
seamless line pipes API 5L X65 PSL-1PSL-2 by bulk vessel, by containers,by LCL, by open top containers,by air.
Copyright © 2011 by Shanghai Katalor Enterprises Co., Ltd. All rights reserved