Contact us
: 0086-21-61182423
: 0086-21-61182425
: ROOM 101��NO.16, 6TH BUILDING, 9TH LANE,GUANGYI ROAD,ZHUQIAO TOWN,PUDONG NEW AREA,SHANGHAI
321 STAINLESS STEEL
Posted:2015/10/28 1:56:36
321 stainless steel plates are part of the austenitic family of stainless steel.It is similar to Type 304 stainless steel, however, it contains a Titanium addition of at least five times the carbon content. It has excellent resistance to intergranular corrosion after exposure to temperatures in the chromium carbide precipitation range of 800 – 1500°F (427 – 816°C).
321 stainless steel Typical applications include annealing covers, high-temperature tempering equipment, diesel and heavy duty automotive exhaust systems, firewalls, stack liners, boiler casings, welded pressure vessels, jet aircraft components, radiant superheaters, bellows and oil refinery equipment. This material is stocked primarily in Flat Rolled Products by 66 distributors but is also available to a lesser extent in Bar Products, Tubular Products, Piping Components, Wire Products, Fasteners, Forging Products, and Structurals.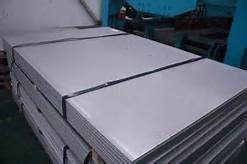 Welding Stainless Steel 321
321 Stainless is readily welded by all common methods including submerged arc. Appropriate weld fillers are most often specified as AWS E/ER 347 or E/ER 321.
Typical compositional ranges for grade 321 stainless steels
Composition ranges for 321 grade stainless steel Sheets & Plates
Grade

C

Mn

Si

P

S

Cr

Mo

Ni

N

Other

321

min.
max

-
0.08

2.00

0.75

0.045

0.030

17.0
19.0

-

9.0
12.0

0.10

Ti=5(C+N)
0.70

321H

min.
max

0.04
0.10

2.00

0.75

0.045

0.030

17.0
19.0

-

9.0
12.0

-

Ti=4(C+N)
0.70
Packaging & Shipping
Utmost care is taken towards Packing of the 321 Stainless Steel Seamless Pipes & Tubes so as to ensure that the resultant Coils, Foils, Tubes, Pipes and Fittings reach in the same condition as desired by our valued customers.
Packing specifications for various products are:
Larger Dia Fusion Welded Pipes are packed with aluminium end caps in a wooden crates.
S.S. Automotive Exhaust Pipes & Scheduled pipes both are packed with plastic end caps in wooden crates.
Cold Drawn Seamless Stainless Tubes are packed with plastic end caps in a wooden box with an inside thermocoal covering.
Coils and Foils are packed in wooden crates.
As a big complex combined steel stockist whose business related with trade, processing, storage and transportation etc.
Copyright © 2011 by Shanghai Katalor Enterprises Co., Ltd. All rights reserved