Contact us
: 0086-21-61182423
: 0086-21-61182425
: Room 301,Unit 6,lane 2500,xiupu Road,Kangqiao Industrial Area,Pudong New District,Shanghai
LR Grade D Shipbuilding Steel Plate
Posted:2016/8/8 4:57:39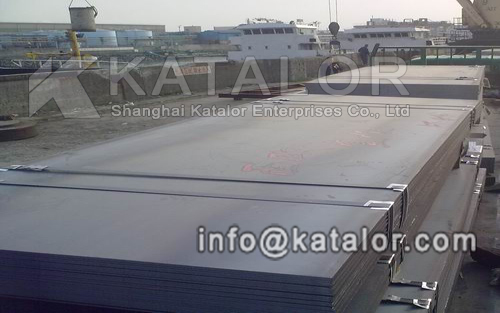 LR Grade D shipbuilding steel plate is mainly used to build vessels and ships which are sailing in cold ocean waters below minus 20 centigrade. LR Grade D shipbuilding steel plate supply by our company have been got the ISO9001:2000 Quality Management System Certification.
LR D Shipbuilding Steel Chemical Composition

Grade

ChemicalComposition(%)

C≤

Mn≥

Si≤

P≤

S≤

Mark

LRD

0.21

0.6

0.10-0.35

0.035

0.035

LR/D
LRDShipbuilding Steel Mechanical Property

LR Grade D Shipbuilding steel plate

Grade

Mechanical Property

Charpy V Impact Test

Thickness

Yield

Tensile

Elongation

Degree

Energy 1

Energy 2

LR-D

mm

Min Mpa

Mpa

Min %

-20

J

J

t≤50

235

400-520

22%

20

27

50<t≤70

235

400-520

22%

24

34

70<t≤100

235

400-520

22%

27

41

Note: Energy 1 is transverse impact test, Energy 2 is longitudinal
lr Grade D Shipbuilding Steel Plate Specification
Thickness:3mm-350mm
Width:1300mm-4200mm
Length:3000mm-12000mm
We can supply any lenth based on the customer's requirement.
lr Grade D Shipbuilding Steel Delivery Details
Packaging Details: Standard export seaworthy packing or as required.
Delivery Time:30-50 days, 7 days for stock goods.
Loading Port: Shanghai ,Tianjin.
Our service features
1. Accurate quotation, to reduce purchasing cost for you.
2. Timely communication, allowing you to monitor the entire production process and the progress
3. Superior quality, letting you go through the inspection of steel and supervise the quality of the finished products
4. Considerable transportation ,helping you to reduce the transportation cost and let you know the circumstance of the transport at any time.
5. Insurance of quality, making you get the original factory warranty for you as soon as possible , and letting you carry out the producing and working plan in the next step
We are a trusted and reliable brand for our high quality and good manufacturing of LR Grade D shipbuilding steel plate .Our company has been a manufacturer and exporter of LR Grade D for decades, and has been sold all over the world with favorable price. As a responsible enterprise, we always stick to be your satisfying partner.
Company Name: Shanghai Katalor Enterprises
Address:Room 301,Unit 6,lane 2500,xiupu Road, Kang qiao Industrial Area, Pu dong New District, Shanghai
TEL:0086-21-61182423
Fax :0086-21-61182425
E-mail:[email protected]
Phone:0086-18317160019
Copyright © 2011 by Shanghai Katalor Enterprises Co., Ltd. All rights reserved