Contact us
: 0086-21-61182423
: 0086-21-61182425
: Room 301,Unit 6,lane 2500,xiupu Road,Kangqiao Industrial Area,Pudong New District,Shanghai
What is JIS G3131 Commercial Hot Rolled SPHC Steels?
Posted:2016/11/8 3:29:56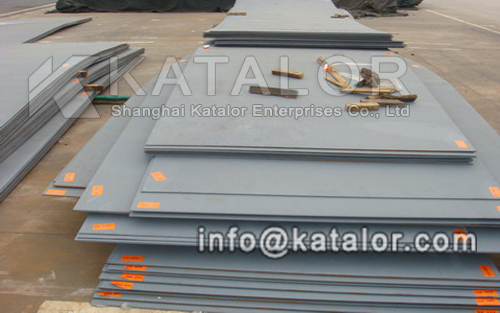 SPHC steel is a commercial quality hot rolled steel that defined in JIS G 3131 standard. JIS G3131 SPHC Steel is usually used in various applications of Construction including Ship Plate, Wear Resistant Steel and Container Plate, also extensively used in some of the automotive manufacturing, electric products, vehicles, aviation.
The Chemical Composition of SPHC Steels
Maximum percentage ofCarbon(C) is0.15percent.
Maximum percentage ofManganese(Mn) is0.60percent.
Maximum percentage ofPhosphorous(P) is0.050percent.
Maximum percentage ofSulphur(S) is0.050percent.
Remaining isIron(Fe) percentage and with few negligible impurities.
Mechanical Properties of SPHC Steels
The tensile strength of the SPHC Steels is expressed in Newton per millimeters and it must be at-least 270 N/mm2 (MPa). The elongation property of SPHC steel varies with the ranges of thickness. The minimum percentage ranges for elongation is from 27 to 31 percent starting from 1.2 mm to 4 mm and over.
JIS G3131 Commercial Hot Rolled SPHC Additional Condition
UT(Ultrasonic examination),AR(As Hot Rolled only),TMCP(Thermal Mechanical Control Processing), N(Normalized), Q+T(Quenched and Tempered),Z Direction Test(Z15,Z25,Z35),Charpy V-Notch Impact Test, The Third Party Test(such as SGS Test),Coated or Shot Blasting and Painting.
Other Terms of JIS G3131 Steel
◆Packaging Details: Standard export seaworthy packing or as required.
◆Delivery Time: 20-30 days, 5-7 days for stock goods.
◆Loading Port: Shanghai
◆Offer Ability: 5 000MT/Per Month.
We are a trusted and reliable brand for our high quality and good manufacturing of SPHC steel. Our company has been a manufacturer and exporter of JIS G3131 Commercial Hot Rolled SPHC steel for decades, and has been sold all over the world with favorable price. As a responsible enterprise, we always stick to be your satisfying partner.
Company Name: Shanghai Katalor Enterprises
Address:Room 301,Unit 6,lane 2500,xiupu Road, Kang qiao Industrial Area, Pu dong New District, Shanghai
TEL:0086-21-61182423
Fax :0086-21-61182425
E-mail:[email protected]
Phone:0086-18317160019
Copyright © 2011 by Shanghai Katalor Enterprises Co., Ltd. All rights reserved