Contact us
: 0086-21-61182423
: 0086-21-61182425
: Room 301,Unit 6,lane 2500,xiupu Road,Kangqiao Industrial Area,Pudong New District,Shanghai
SUS 410 stainless steels Specification from katalor, SUS 410 applications
Posted:2016/10/23 23:32:02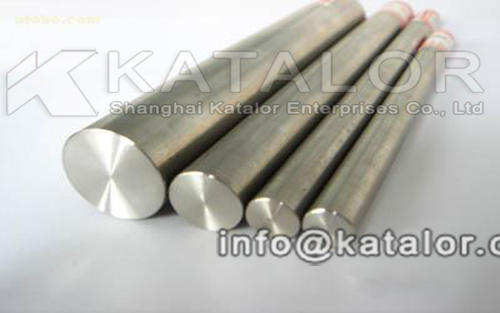 SUS 410 stainless steels are martensitic stainless steels, which contain 11.5% chromium to provide good corrosion resistance. Although SUS 410 stainless steels are less resistant to corrosion than austenitic stainless steels, they can be hardened, Tempering and polishing to further improve its corrosion resistance.
SUS 410Chemical composition:
Grade

C

Mn

Si

P

S

Cr

Ni

SUS410

min.
max.

-
0.15

-
1

-
1

-
0.04

-
0.03

11.5
13.5

0.75
SUS 410 Physical properties:
Grade

Density (kg/m3)

Elastic Modulus (GPa)

Mean Coefficient of Thermal Expansion
(μm/m/°C)

Thermal Conductivity
(W/m.K)

Specific Heat 0-100°C
(J/kg.K)

Electrical Resistivity (nΩ.m)

0-100°C

0-315°C

0-538°C

at 100°C

at 500°C

SUS410

7800

200

9.9

11

11.5

24.9

28.7

460

570
SUS410 stainless steel specifications:
1. Round bar: Diameter : 1mm-2000mm
2. Square bar: Size: 50mm * 50mm-600mm *600mm
3. Steel plate /flat bar: Thickness: 0.1mm-800mm Width: 10mm to 1500mm
4. Tube/pipe: Size: OD: 6-219mm WT: 1-35 mm.
5. Cold-rolled sheet: Thickness: 2-5mm Width:1000mm Length: 2000mm
6. Hot-rolled sheet: Thickness:6-80mm Width: 210-610mm
Length: We can supply any length based on the customer's requirement.
Forging piece: stepped shafts with flanks / discs /tubes /slugs /donuts /cubes /other different shapes based on OEM.
SUS 410 Application:
Oil and gas production mechanical
Hydrometallurgy, heat exchangers
Seawater handling mechanical
Pulp mill bleach systems
Food processing mechanical
Tall oil distillation columns and mechanical
Katalor has a large steel processing plant and a variety of precision steel processing equipment to meet customer SUS 410 different size requirements, as well as different SUS 410 delivery conditions, such as: hot forging / hot rolling + annealing / normalizing + tempering / Quenching and tempering. In addition, we can surface grinding, shot blasting, painting, roughing or finishing SUS 410.
Katalor as a well-known domestic steel producers and suppliers, our advantage lies in the excellent team, a wealth of steel processing equipment, and quality and cheap steel products. We can not only produce steel and other raw materials, but also processed into steel parts, katalor SUS 410 per month export volume reached one million tons, a huge inventory and rich, by overseas buyers praise, if you SUS 410 Interested, do not hesitate, please contact us immediately.
Phone: 0086-18317160019
TEL: 0086-21-61182423
Fax: 0086-21-61182425
E-mail: [email protected]
Skype: shanghai.katalor
Address : Room 301,Unit 6,lane 2500,xiupu Road,Kangqiao Industrial Area,Pudong New District,Shanghai
Copyright © 2011 by Shanghai Katalor Enterprises Co., Ltd. All rights reserved