Contact us
: 0086-21-61182423
: 0086-21-61182425
: Room 301,Unit 6,lane 2500,xiupu Road,Kangqiao Industrial Area,Pudong New District,Shanghai
You are here: Home- News
SPA-H,SPA-C Building Material Corten steel,SPA-H ,SPA-C Weathering resistant steel, SPA-H,SPA-C atmosphere corrosion resistance steel
SPA-H,SPA-C Building Material Corten steel,SPA-H ,SPA-C Weathering resistant steel, SPA-H,SPA-C atmosphere corrosion resistance steel
Posted:2016/7/29 20:50:32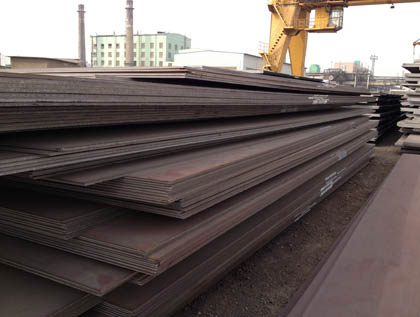 Corten steel is a group of steel alloys which form a stable rust-like appearance if exposed to the weather for several years.
Weathering steel with alloy elements, such as Cu, Cr, Ni added, the anti-corrosion structural steel acquires a corrosion resistance ability.
Weathering resistant structural steel is self-protecting that slows down the progress of corrosion. The steel is an economical and fully recyclable material.
Atmospher iccorrosion resistantance steel is stronger tougher than carbon steel.Atmospher iccorrosion resistance steel features atmospher iccorrosion resistance.
SPA-H,SPA-C steel all made of carbon steel and copper, nickel, phosphorus and other chemical elements.
SPA-H, SPA-C Mechnical Property
| | | | | |
| --- | --- | --- | --- | --- |
| Grade | PlateThickness | Yieldstrength | Tensilestrength | elongation |
| SPA-H | ≤6.0mm | ≥345MPa | ≥480MPa | ≥22 |
| | 6.0mm | ≥335MPa | ≥490MPa | ≥15 |
| | | | | |
| Grade | Plate Thickness | Yield strength | Tensile strength | elongation |
| SPA-C | - | ≥ 325 MPa | ≥ 450 MPa | ≥ 26 |
SPA-H,SPA-C Corten steel Specifications
Thickness: 5mm to 300mm
Width: 1500mm to 4050mm
Length: 3000mm to 12000mm
Meanwhile, all the size can be customized
SPA-H,SPA-C Corten steel Advantages
the speed of construction is quicker.
the cost of restorative maintenance is significantly reduced.
SPA-H,SPA-C Corten steel Application
SPA-H steel is used for marine containers, container, bridges, and train tracks or as structural steel for other places needs high strength corrosion resistance.
SPA-C steel widely used in air preheater, economizer, railway carriage, containers production, bridge building , construction and so on.
As a very long history company, Shanghai Katalor Enterpriseshad enough experience about the quality ,price for these goods in China Market. we are a professional SPA-H,SPA-C steel stockist and supplier. We can supply different product type and grades of SPA-H,SPA-C steel,If you want to get the SPA-H,SPA-C steel price, please do not hesitate tocontact us.
Company Name: Shanghai Katalor Enterprises
Address:Room 301,Unit 6,lane 2500,xiupu Road, Kang qiao Industrial Area, Pu dong New District, Shanghai
TEL:0086-21-61182423
Fax :0086-21-61182425
E-mail:[email protected]
Phone:0086-18317160019
Copyright © 2011 by Shanghai Katalor Enterprises Co., Ltd. All rights reserved