Q345 B Structural Steel For Sale
Posted:2015-11-30 05:02:20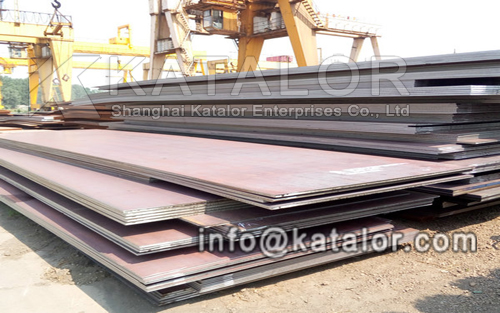 Steel grade Q345B is the most common used as high strength low alloy structural steel in industry area. Q345 B Steel is used for a number of manufacturing purposes. Q345 B Structural Steel also used in general structure and mechanism , including construction , machinery , transportation , aviation.
Q345 B Chemical Composition
Main chemical elements composition of Q345B

C

Si

Mn

P

S

V

Nb

Ti

0.20

0.55

1.00-1.60

0.040

0.040

0.02-0.15

0.015-0.060

0.02-0.20
Q345 B Structural Steel Mechanical Property
Thickness (mm)

Q345B

≤ 16

> 16 ≤ 35

> 35 ≤ 50

>50

Yield strength (≥Mpa)

345

325

295

275

Tensile strength (Mpa)

470-630
Standard: Steel Plate GB Q345B
Thickness: 6-100mm
Width: 1500-3600mm
Length: 6000-18000
Meanwhile, the size can be customized.
Supply ability: 5000M/T
Special use: High-strength plate
As a very long history company, Shanghai Katalor Enterpriseshad enough experience about the quality, price for these goods in China Market. we are a professional grade Q345B stockist and supplier. We can supply different product type and grades of Q345 B Steel. If you want to get the price, please do not hesitate to contact us.
Company Name: Shanghai Katalor Enterprises
Address:Room 301,Unit 6,lane 2500,xiupu Road, Kang qiao Industrial Area, Pu dong New District, Shanghai
TEL:0086-21-61182423
Fax :0086-21-61182425
E-mail:[email protected]
Phone:0086-18317160019