Contact us
: 0086-21-61182423
: 0086-21-61182425
: Room 301,Unit 6,lane 2500,xiupu Road,Kangqiao Industrial Area,Pudong New District,Shanghai
New Design GB/T700 Q235 B Carbon Steel Properties
Posted:2016/10/14 5:19:14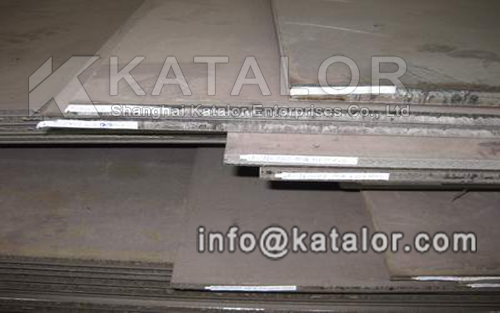 Q235 B Carbon steel is equal to steel grades ASTM A36,JIS G3101 SS400,EN 10025-2 S235JR. GB/T700 Q235 B Carbon Steel is mainly used instruction upholstery, and industry instruments such as fencing, railing, safe doors / windows, gate fittings, inside staircases.
Mechanical property for Q235B Carbon steel:

Thickness (mm)

Q235B

≤ 16

> 16 ≤ 40

> 40 ≤ 60

> 60 ≤ 100

> 100 ≤ 150

> 150

Yield strength (≥Mpa)

235

225

215

215

195

185

Tensile strength (Mpa)

370-500
Chemical composition for Q235B Carbon steel (Heat Analysis Max%)

Main chemical elements composition of Q235B

C

Si

Mn

P

S

0.20

0.35

1.40

0.045

0.045
Q235 B Seamless Steel Size Range
Steel Standard:GB/T700
Rolling Type: Mild steel plate, Carbon steel coil
Thickness:2mm-650mm
Width:1000mm-4000mm
Length:3000mm-12000mm
we can supply any size based on customer's requirements.
Shanghai Katalor Enterprises Co., Ltd is a big complex combined steel stockist whose business related with trade, processing, storage and transportation. we are specialized in supplying Q235 B steel. We have the good quality and advanced equipment, our products meet the state standard, and also available for customers' requirement. If you have any need of T700 Q235 B Carbon Steel, please do not hesitate to contact us by email [email protected], we can do our best to help you!
Copyright © 2011 by Shanghai Katalor Enterprises Co., Ltd. All rights reserved