Contact us
: 0086-21-61182423
: 0086-21-61182425
: Room 301,Unit 6,lane 2500,xiupu Road,Kangqiao Industrial Area,Pudong New District,Shanghai
LR Grade A Shipbuilding Steel Plate Chemical Composition
Posted:2016/8/5 5:01:50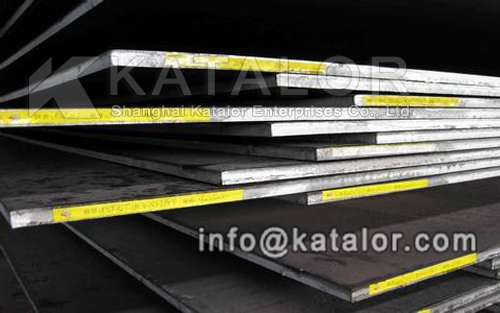 LR Grade A Ship plate is the Hull structural steel with it's good toughness properties, higher strength, strong corrosion-resistance, the processing properties, and welding properties. LR Grade A steel plate has been widely used in ship building, Ocean Offshore Structural Project , light industry, household appliance, automobile.
LR A steel plate Chemical Composition
Main chemical elements composition of LR Grade A

C

Si

Mn

P

S

0.21

0.50

2.5×C

0.035

0.035
LR A general strength property

Grade

Mechanical Property

Charpy V Impact Test

Thickness

Yield

Tensile

Elongation

Degree

Energy 1

Energy 2

LR A

mm

Min Mpa

Mpa

Min %

20

J

J

t≤50

235

400-520

22%

20

27

50<t≤70

235

400-520

22%

24

34

70<t≤100

235

400-520

22%

27

41

Note: Energy 1 is transverse impact test, Energy 2 is longitudinal
LR A Shipbuilding steel plate Specification
Thickness: 5mm to 240mm,
Width: 1400mm to 4020mm
Length: 3000mm to 12000mm.
We can supply any size based on customer΄s requirements.
LR A Shipbuilding steel plate Other Terms:
Packaging Details: Standard export seaworthy packing or as required.
Delivery Time: 30-50 days, 7 days for stock goods.
Loading Port: Shanghai ,Tianjin
Trade Terms: FOB, CFR,CIF
We are a trusted and reliable brand for our high quality and good manufacturing of LR Grade A Ship plate . Our company has been a manufacturer and exporter of LR Grade A steel plate for decades, and has been sold all over the world with favorable price. As a responsible enterprise, we always stick to be your satisfying partner.
Company Name: Shanghai Katalor Enterprises
Address:Room 301,Unit 6,lane 2500,xiupu Road, Kang qiao Industrial Area, Pu dong New District, Shanghai
TEL:0086-21-61182423
Fax :0086-21-61182425
E-mail:[email protected]
Phone:0086-18317160019
Copyright © 2011 by Shanghai Katalor Enterprises Co., Ltd. All rights reserved