Contact us
: 0086-21-61182423
: 0086-21-61182425
: Room 301,Unit 6,lane 2500,xiupu Road,Kangqiao Industrial Area,Pudong New District,Shanghai
You are here: Home- News
JIS G3106 SM570 Steel Plate Factory, Dimensional Characteristics of SM570 Steel
JIS G3106 SM570 Steel Plate Factory, Dimensional Characteristics of SM570 Steel
Posted:2016/11/21 3:58:42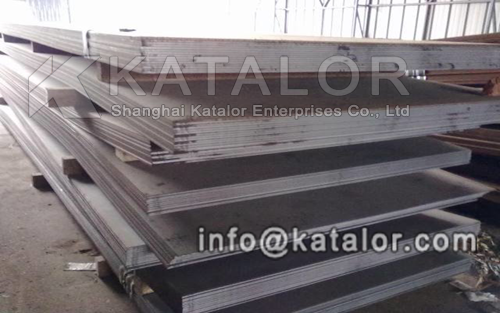 SM570 steel grade is a low carbon, high strength structural steel with this low carbon equivalent, it process good cold forming property. SM570 steel is a material grade and designation defined in JIS G3106 standard. SM570 Steel is hot rolled steel for welded structure in the form of plates, sheets strips for architecture, engineering structures.
SM570 Chemical composition% of the Product analysisof grade
SM570 Chemical Composition

Grade

The Element Max (%)

C

Si

Mn

P

S

Cu (min)

SM570

0.18

0.55

1.70

0.035

0.035

-
SM570 Mechanical Property
Grade

SM570 Mechanical Property

Thickness

Yield

Tensile

Elongation

SM570

mm

Min Mpa

Mpa

Min%

t≦16

460

570-720

19

16<t≦90

420-450

570-720

26
Thickness: 5mm to 500mm;
Width: 1500mm to 4500mm:
Length: 3000mm to 12000mm
We can supply any size based on customer's requirements
SM570 Adopt standard: JIS G3106 Standard Specification is for Rolled Steels for Welded Structure
Third Party Inspection for SM570: ABS, DNV, BV, GL, CCS, LR, RINA, KR, NK, CE, SGS, IKE, IEI or other quality department.
JIS G3106 SM570 steel Plate Additional Condition
UT(Ultrasonic examination),AR(As Hot Rolled only),TMCP(Thermal Mechanical Control Processing), N(Normalized), Q+T(Quenched and Tempered),Z Direction Test(Z15,Z25,Z35),Charpy V-Notch Impact Test, The Third Party Test(such as SGS Test),Coated or Shot Blasting and Painting.
We are a trusted and reliable brand for our high quality and good manufacturing of SM570 Steel Plate. Our company has been a manufacturer and exporter of JIS G3106 SM570 for decades, and has been sold all over the world with favorable price. As a responsible enterprise, we always stick to be your satisfying partner.
Company Name: Shanghai Katalor Enterprises
Address:Room 301,Unit 6,lane 2500,xiupu Road, Kang qiao Industrial Area, Pu dong New District, Shanghai
TEL:0086-21-61182423
Fax :0086-21-61182425
E-mail:[email protected]
Phone:0086-18317160019
Copyright © 2011 by Shanghai Katalor Enterprises Co., Ltd. All rights reserved